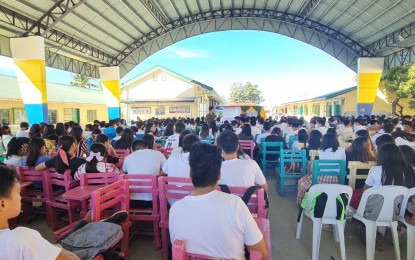 BALER, Aurora – The 91st Infantry Battalion (91IB) of the Philippine Army on Wednesday urged the youth not to be swayed by the false ideologies of the Communist Party of the Philippines–New People's Army–National Democratic Front (CPP-NPA-NDF).
Lt. Col. Julito Recto Jr., commander of the 91IB, made the call as he noted of the recruitment by the communist terrorist organization among the youth since they are easy targets.
Recto said the communist terrorist organization is taking advantage of the youth's vulnerability in coaxing them to join their organization.
"The youth are very vulnerable to false ideologies. Their innocence was being utilized by the armed group in the guise of development and reform yet the real agenda is to destroy the image of the government," Recto said in an interview.
To counter the rebels' recruitment efforts, Recto said they are continuously conducting school awareness campaigns against the communist terrorist group.
He said some 608 students from Grades 9, 10, 11 and 12 at the Ricardo Dizon Canlaz Agricultural School in Barangay Poblacion in Laur town, Nueva Ecija province attended the youth information awareness campaign forum on Tuesday.
Recto said the 91IB will continue to disseminate correct information on the sincerity of the government in promoting sustainable peace and development, especially in geographically isolated areas.
"We will continue to the fullest level to engage the youth in the different schools through campus peace and development fora in our area of responsibilities (AOR)," he added.
Meanwhile, Christina Danipog, president of Barkada Kontra Droga, a student-led organization, thanked the 91IB and the Department of Education for the information imparted to them on the communists' deceptions.
Likewise, Elizabeth Nalzaro, teacher-adviser of the group, said the campaign is a big help and could save their students from possible recruitment by the communist terrorist group.
"We required our students to attend in order for them to learn and be aware so that they will not be recruited by the terrorist organization," she said. (PNA)