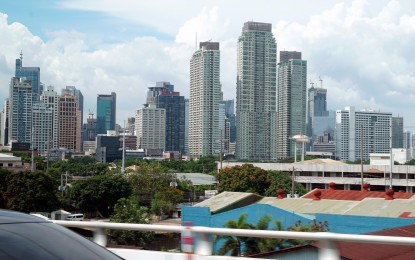 MANILA – The Philippine economy expanded by 7.2 percent in the last quarter of 2022, bringing full-year growth to 7.6 percent, driven by increased economic activity mainly from pent-up demand as it fully reopened amid elevated inflation rate.
National Economic and Development Authority (NEDA) Secretary Arsenio Balisacan said among the major emerging economies in the region that have released their fourth-quarter gross domestic product (GDP) growth, the Philippines grew the fastest, followed by Vietnam at 5.9 percent and China at 2.9 percent.  
"Our improved Covid-19 (coronavirus disease 2019) risk management and the easing of mobility restrictions have created a positive economic outlook, boosting economic activity and creating more jobs despite external headwinds," he said in a briefing on Thursday.
Balisacan said measures being implemented by the government to further buoy the economy's recovery are working.
"Our strong economic growth performance for 2022 proves that our calibrated policies and strategies have helped put us on the path to recovery and on track to achieving our aspiration for an inclusive, prosperous, and resilient society by 2028," he said.
Balisacan said pent-up demand drove growth in the fourth quarter as the economy was fully reopened during the period, with household consumption accounting for around three-fourths of domestic output, and investments contributing around a fifth.
"The improvements in labor market conditions, increased tourism, revenge and holiday spending, and resumption of face-to-face classes supported growth in the quarter, further reflecting a solid rebound in consumer and investor confidence in the economy," he said.
Balisacan said had it not been for the elevated inflation rate, which rose to its highest since November 2008 last December when it accelerated to 8.1 percent, "growth could have been higher by another perhaps 1 to 2 percentage points."
"It shows how overall demand is sensitive to inflation," he added.
In terms of the volume of economic activities, Balisacan said domestic growth has recovered for many sectors, except for others such as tourism.
"(But) in so far as per capital income… we haven't fully recovered yet," he said.
Balisacan said the government is firm on ensuring that quality jobs will be available to Filipinos to lessen their need to work abroad.
"Inclusive growth across the archipelago will be our vehicle for reducing poverty incidence from 18 percent of the population in 2021 to a single-digit level by 2028," he said.
National Statistician Dennis Mapa said 2022 full year GDP growth of 7.6 percent exceeded the government's 6.5 to 7.5 percent growth assumption for the year and the highest after the 8.8 percent in 1976.
Mapa said the fourth-quarter growth, slower than the 7.6 percent in the previous quarter, was driven by the wholesale and retail trade, repair of motor vehicles and motorcycles, financial and insurance activities and retail estate and ownership of dwellings boosted domestic growth.
He said domestic demand remained strong, with the household final consumption expenditure (HFCE) rising by 2.1 percent quarter-on-quarter, led by the restaurants and hotels, food and non-alcoholic beverages, and miscellaneous goods and services. Year-on-year expansion of HFCE stood at 7 percent.
Among the major economic industries, Mapa said agriculture, forestry, and fishing contracted by 1.7 percent because of the lower output of sugarcane, palay (rice), and poultry and egg production.
Meanwhile, Balisacan said the government is doing pro-active assessment of the current situation to address the elevated inflation rate in the country, which is expected to go back to within the government's 2 to 4 percent target band by the second half of this year.
He said the government continues to allow the importation of several food items to boost domestic supply, adding that not doing so will hurt both the consumers and domestic growth.
However, Balisacan said it aims to eventually improve domestic production and food security through investments in the agriculture sector.
"As such, the government will focus on modernizing agriculture and agri-business through farm mechanization, research and development, and enhanced inter-industry linkages to create and diversify higher value products," he said, underscoring the need to make the sector resilient. (PNA)