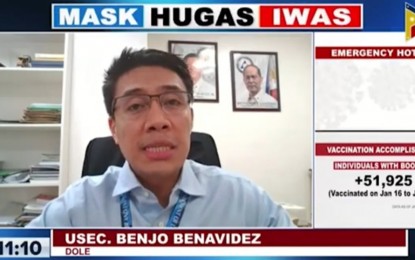 MANILA – Filipino and foreign employees working in Philippine Offshore Gaming Operators (POGO) who will be affected by the closure of their companies are entitled to benefits, a labor official said Thursday.
"The labor code covers all workers who work in the Philippines, whether you are a foreigner or a Filipino. Programs that we have mentioned, if the foreign worker wants to avail, it can be done. Especially for the payment of separation pay, and unemployment insurance if they are qualified, they can get that because that is stipulated by law," Labor Undersecretary Benjo Benavidez said in a Laging Handa briefing.
A separation pay is equivalent to one month's salary of the worker per year of service while with unemployment insurance provided by the Social Security System (SSS), the worker is entitled to a benefit that is equivalent to half of the average maximum monthly credit that can be claimed within two months from separation.
Benavidez also noted that the DOLE has an employment facilitation program that aims to find the same job for the affected workers.
"Refer to specific companies or ask for help from Public Employment Service Office (PESO) for the job vacancy list. If retraining is needed, they can upskill. The Technical Education and Skills Development Authority (TESDA) is again part of the DOLE," he said.
The agency is also offering a livelihood program, he added.
"If you don't want to look for a job and want to build a business, we have a program that can give them seed capital. It is PHP30,000. A small amount to others but a big help to those who will lose their jobs," he added.
He said the affected employee may also apply for an emergency employment for at least 10 days up to three months under Tulong Panghanapbuhay sa ating Disadvantaged / Displaced Workers (TUPAD) program.
Benavidez said an estimated 25,000 workers, most of whom are customer service representatives or dealers/agents, may be affected once POGOs cease operations in the country. (PNA)