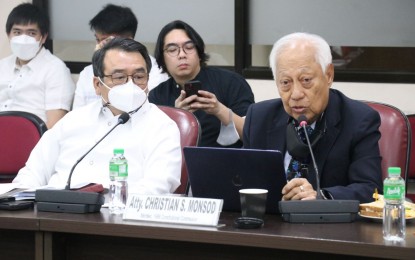 MANILA – One of the framers of the 1987 Constitution on Thursday urged Congress to prioritize the passage of an anti-dynasty law instead of any moves to amend the 1987 Constitution.
During the House hearing on measures proposing constitutional reform, lawyer Christian Monsod said it is a "lame excuse" to blame the Constitution for the worsening effects of entrenched political dynasties, when Congress has not passed an anti-dynasty law for 35 years.
"The real reason is self-interest. So Instead of rushing to amend the Constitution, why don't our legislators pass an anti-dynasty law of 4 degrees for the barangay elections this year?," Monsod said.
He said the country's problem of mass poverty and socio-economic disparities is rooted in a "feudalistic system of dynastic families that has been impervious to change for generations" and corruption.
"Real change cannot happen until we strike at the roots and not the branches of this system," he said.
He said the government failed or underperformed in addressing the underdevelopment of outlying areas from Manila, the problem of mass poverty and gross inequalities and the weakening of institutions not because of the Constitution but due to failure to fully implement its mandates, especially on social justice and local autonomy.
"The Constitution is not the problem, it is part of the solution," he said.
"Our Constitution is not perfect, no constitution is, because it is written by imperfect people. But before its writing, we conducted consultations all over the country and the people overwhelmingly preferred the stability of familiar structures – a democratic and representative presidential system, with checks and balances, separation of powers and the rule of law. And, overwhelmingly, they wanted the power to directly elect their president," he added.
The House Committee on Constitutional Amendments, chaired by Cagayan de Oro City Rep. Rufus Rodriguez, convened on Thursday for its second regular meeting and first public consultation on measures proposing constitutional reform.
In his opening remarks, Rodriguez said there would be a series of public consultations nationwide on all the referred measures.
He said the issues to be answered in the first public consultation were the following: 1) Whether or not it is necessary to amend the constitution at this time; 2) If in the affirmative, what is your preferred mode of amendment; and 3) What is your proposed specific amendment, if any.
"The rationale for this exercise this morning is for the committee and Congress to get the sense and pulse of the people on the important issue of constitutional reform and how it affects their lives," Rodriguez told the panel.
"Aligned with these principles of participatory or inclusive democracy, there will be grassroots consultation. We are going to three areas of our country – Visayas, Luzon and Mindanao, outside Metro Manila to hear our barangay captains' grassroots opinions and positions on the three questions," he added. (PNA)