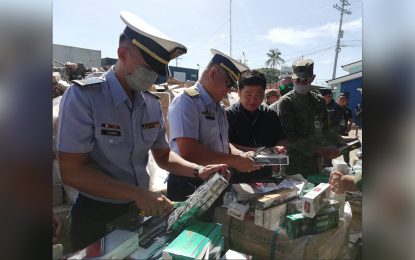 MANILA – President Ferdinand R. Marcos Jr. is seeking "drastic" reforms in the bureaucracy to address rampant smuggling, which he said "threatens local industries and affects government tax collection."
"(The President) is pushing for the digitalization of government transactions, particularly at the Bureau of Customs (BOC), to curb rampant smuggling," Presidential Communications Office (PCO) Secretary Cheloy Garafil said in a statement issued late Friday night.
Marcos, Garafil said, emphasized the need for "more modernized" data and transaction handling to aid the nation's economic development.
In a recent interview, the Chief Executive cited the importance of addressing the issue of unabated smuggling of all kinds of commodities in the country, acknowledging that smuggling is one of the culprits behind rising prices of agricultural products in the country, including onions.
Garafil said digitalizing the BOC would be an "important part" of the Marcos administration's strategies to curb smuggling.
She added that Marcos is considering the adoption of anti-smuggling measures being implemented by other countries.
"It might be helpful to look into successful approaches being employed by several countries, the President said, and apply them to the Philippines," Garafil said.
Marcos has repeatedly said digital transformation is a key driver for long-term development and the economic transformation of the post-pandemic global economy.
On Jan. 12, Marcos met with the Private Sector Advisory Council (PSAC) to discuss ways to address rampant smuggling in the country.
He sought the private sector's help, lamenting that the present system is "not working" despite government efforts to curb smuggling.
One of the recommendations raised by the PSAC was opening up the database to the BOC and the Department of Agriculture (DA) to ensure the efficient sharing of information.
The DA and BOC have a data-sharing agreement (DSA) that seeks to facilitate the exchange of information on traded agricultural products.
The DSA, which is governed by the Philippines' Data Privacy Act, is one of the pacts forged by the DA and BOC to ensure that local agri-fishery products remain competitive.
The agreement enables the two agencies to promptly share and act on critical and intelligence information. (PNA)