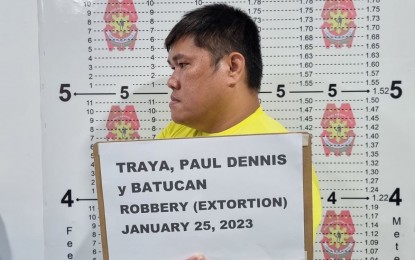 MANILA – Operatives of the Philippine National Police's (PNP) anti-scalawag unit have arrested a police sergeant during an entrapment operation in San Nicolas, Cebu City.
In a report on Friday, the Integrity Monitoring and Enforcement Group said the suspect was identified as Staff Sgt. Paul Dennis Traya, who is assigned at the Mambaling Police Station 11 and designated as a traffic investigator.
Traya was nabbed at the parking lot of Miller Hospital along Tres de Abril Street in San Nicolas, Cebu City at about 3:20 p.m. Wednesday.
The operation stemmed from the complaint of Walter Babon Despi, a resident of Tres de Abril Street, for alleged extortion by an officer of Mambaling Police Station 11 who was later identified as Traya.
The complainant said he was traveling on his motorcycle in Barangay Mambaling, Cebu City when he was flagged down by Traya, who was at a checkpoint with force multipliers, for a random check.
The suspect initially demanded PHP10,000 from the complainant but later settled for PHP3,000.
During the operation, Traya was caught in the act of extorting money from other traffic violators.
He was brought to the Visayas field unit office in Camp Sergio Osmena Sr., Osmena Boulevard, Cebu City for documentation and proper disposition.
He will face administrative charges aside from criminal charges. (PNA)