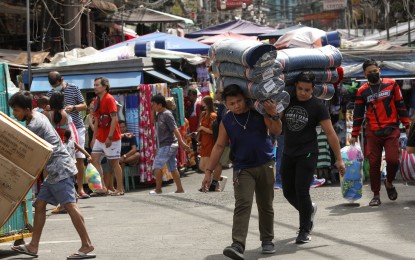 MANILA – The Senate leadership on Friday recognized the Marcos administration's clear economic targets and "strong push" to sell the country as an investment hotspot that resulted in the gross domestic product (GDP) growth.
The country's GDP growth of 7.2 percent in the fourth quarter of 2022 and a 7.6 percent growth for the entire year marked the country's highest in 46 years, or since an 8.8 percent growth in 1976.
Senate President Juan Miguel Zubiri said the "remarkable success" is proof that the government's pandemic recovery efforts are working.
"Covid-19 has been a long nightmare, but our move to slowly and surely reopen our borders and our businesses has paid off," Zubiri said in a statement, noting that the Philippines currently holds the distinction of having the fastest GDP growth in Southeast Asia.
"I am hopeful that we will continue on an upward trajectory this 2023 and with the coordination between the executive and the legislative, we are committed to strengthening our economic measures and building on the gains that we have made so far," he added.
However, sectors that are still slowly recovering from the pandemic, such as trade, tourism and transport, need more support, according to Zubiri.
"We must work on cascading this GDP growth to the masses. For this growth to be a genuine triumph, it has to be felt in the lives of every Filipino, especially in terms of day-to-day expenses," he said.
To prepare for the threat of a global recession, Zubiri stressed the importance of making sure that the country's macroeconomic policies and fundamentals are kept in check to outstand its possible effects.
Senator Sonny Angara, who chairs the Committee on Finance, said in a previous statement that the GDP growth clearly shows the economy has "bounced back after the historic slump brought about by the pandemic.
He likewise pointed out that a lot more must be done to sustain the momentum.
"The 2022 growth data showed that it was buoyed by consumer spending. This is not ideal and sustainable. Prices of goods remain high and this, coupled with the hit on household savings will have an impact on spending in the first quarter this year," Angara explained.
"We, in Congress, will provide our support to its initiatives that will contribute to addressing inflation, creating jobs and pump priming the economy," he added.
Socioeconomic Planning Secretary Arsenio Balisacan said in a briefing with the Philippine Statistics Authority on Thursday that the country's GDP expanded faster than the pandemic-blighted 5.7 percent output in 2021.
He attributed the growth to labor market conditions, increased tourism, revenge and holiday spending, and resumption of face-to-face classes. (PNA)