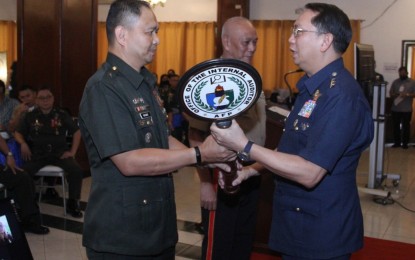 MANILA – Brig. Gen. Joel Alejandro Nacnac assumed on Friday his new post as The Internal Auditor (TIA) of the Armed Forces of the Philippines (AFP).
In a statement, AFP public affairs office chief, Col. Jorry Baclor, said Nacnac was installed in short rites presided over by vice chief of staff, Air Force Lt. Gen. Arthur Cordura, at Camp Aguinaldo, Quezon City.
Nacnac previously served as head of the AFP Center for Law of Armed Conflict.
He also served as the Army Provost Marshal, chief of morale, welfare, and development division of the office of the AFP deputy chief-of-staff for personnel; and commander of the 19th Infantry Battalion.
He replaced Marine Col. Rodyer dela Peña who led the Office of The Internal Auditor in an acting capacity.
Also on Friday, Air Force Maj. Gen. Fernyl Buca officially relinquished his duties and responsibilities as AFP deputy chief-of-staff for logistics after being appointed Northern Luzon Command (Nolcom) head last Jan. 25.
Heading Buca's turnover ceremony was the deputy chief-of-staff AFP, Vice Admiral Rommel Anthony SD Reyes.
Buca replaced Lt. Gen. Ernesto C. Torres.
He is the first Air Force general to be appointed as NOLCOM chief. He is a member of the Philippine Military Academy (PMA) Class of 1990.
Col. Leo Edward Y. Caranto, the current assistant AFP deputy chief-of-staff for logistics, took over in an acting capacity.
He is a member of the PMA Class of 1992 and holds a Master's Degree in Business Administration for Executives from Southwestern University.
Among the positions he previously held were Army chief ordnance and chemical services; deputy of the Army's office of the assistant chief-of-staff for logistics; and director of Research and Development Center, Army Support Command. (PNA)