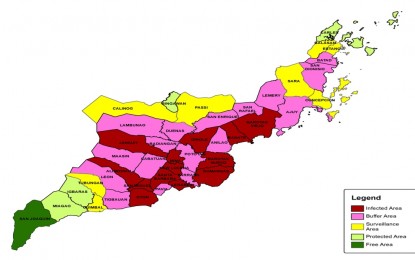 ILOILO CITY – Iloilo Governor Arthur Defensor Jr. on Friday said the province is facing two battles, one is to stop the spread of the African swine fever (ASF) and another is to ensure the supply of pork products in the next three months, especially in areas where depopulation was enforced.
Defensor, in a press conference on Friday, said 13 municipalities of the province are under red or infected zone with the addition of Dingle and Barotac Nuevo.
"We have two new red zones: Dingle and Barotac Viejo. There was a positive case in Barotac Viejo last time except that it was observed first if it was only an incursion because it was only one barangay," he added.
The other LGUs within the red zone are Oton, San Miguel, Leganes, New Lucena, Alimodian, Santa Barbara, Mina, Barotac Nuevo, Dumangas, Banate, and Janiuay.
The virus is present in 78 barangays in 18 municipalities of the province as of Jan. 26 based on data from the Office of the Provincial Veterinarian.
Municipalities with confirmed cases classified as pink or buffer zones are Zarraga, Batad, San Dionisio, Badiangan, and Dueñas. The pink zone is aimed at preventing and managing the spillover of cases from the red area through risk mitigation measures such as improved biosecurity and surveillance.
However, the governor said that checkpoints and implementation of biosecurity measures do not ensure 100 percent protection since the disease is very contagious.
Meantime, there is a standing directive for the inventory of the supply of pork in the province during their meeting with the Provincial Price Monitoring Council two days ago.
Defensor said there were pigs transported outside of the province since October but farmers were hesitant to raise new livestock and no replacement was done in red zone areas giving rise to concerns of a supply problem.
There is ongoing environmental surveillance to check if the red zone areas are already disease-free to start repopulation. (PNA)