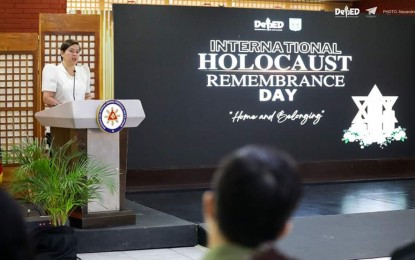 MANILA – The Department of Education (DepEd) underscored on Friday the fortification of social justice, as it joined the international community in remembering the terror of the Holocaust against millions of Jews.
In a statement, the DepEd said it is significant to respect diversity and justice, which were deemed abandoned during the times of persecution against the Jewish people.
"Ating alalahanin ang mga naging biktima ng Holocaust at nawa'y maging paalala ang kanilang mga pinagdaanan na responsibilidad ng bawat isa na irespeto ang pagkakaiba-iba ng mga tao at hindi kailanman dapat ito maging sanhi ng diskriminasyon at karahasan (We should remember the victims of the Holocaust, and hopefully this would serve as a reminder that it is everyone's responsibility to respect the diversity of men, and that it should never be a cause of discrimination and violence)," it said.
In an observance ceremony on Thursday, Vice President and Education Secretary Sara Duterte said the public should never forget the horrors of the anti-Semitism oppression.
"The atrocity committed by the Nazi regime and their collaborators is beyond comprehension. Still, we must remember, and we must not forget, the names and the faces of the victims, the families torn apart, and the communities destroyed," she said.
Duterte also pointed to hate due to differences as the root of the racist violence in history's time.
"We must remember so we may never forget the dangers of hate and intolerance," she added.
Duterte insisted that proper education on the factual events during the Holocaust should be ensured to guide the generations to come.
"We are responsible for ensuring that the lessons of the Holocaust and the stories of the survivors are passed on to future generations so that it will never happen again. We must ensure that these stories are not lost so we can learn from them and prevent other atrocities from happening again," Duterte said.
"DepEd also recognized the need to continue to promote Holocaust education across all schools in the county and to persuade other DepEd field offices to join these kinds of commemoration events," the DepEd said in a statement.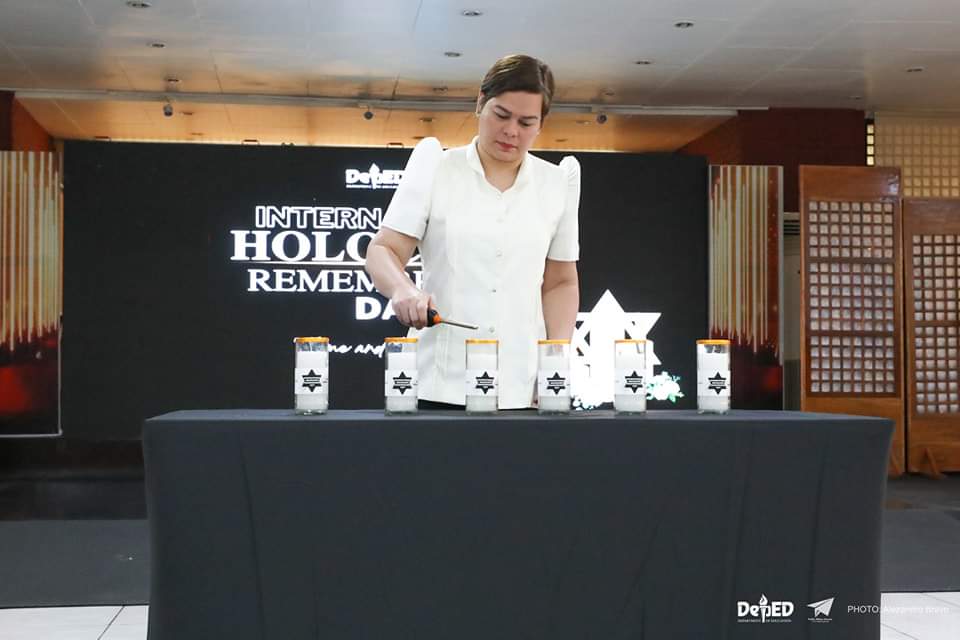 Duterte then led the lighting of six candles in honor of the six million Jews who died during the rule of the Nazis.
This year's remembrance was themed "home and belonging," according to the United Nations (UN).
"Home and belonging, two concepts that were systematically ripped away from Jewish citizens, once the Nazi Party took control of Germany in 1933," the UN said. "This process went way beyond enacting legislation to define and exclude Jews from society: the Nazis launched misinformation and hate speech campaigns vilifying and dehumanizing Jews."
During the Holocaust, places of worship, houses, and even livelihood were destroyed. (PNA)