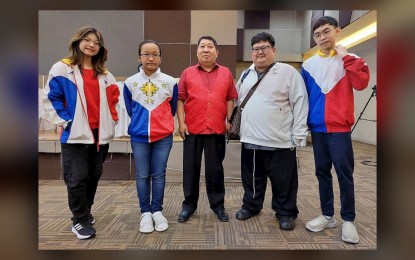 MANILA – Woman National Master Antonella Berthe "Tonelle" Racasa and National Master Ivan Travis Cu kicked off their campaign on a high note on Friday at the BKD Fide Rated International Open Chess Tournament Under 21 at the Gunadarma University Karawaci in Tanggerang, Indonesia.
The 15-year-old Racasa of Mandaluyong City beat local Muhammad Tedisyah Arya after 30 moves of Modern defense.
"I'm so happy to hurdle my first round assignment," said Racasa, a student of Victory Christian International School.
Cu, 14, also won his match against local Tristan Haidar after 33 moves of Modern Benoni defense.
"We hope to perform well in this event and gain some Elo rating points," said Cu, a Grade 8 student from Xavier School.
Tonelle's father-coach, Robert, said: "The first round is one of the toughest rounds in any tournament. It usually sets the tone of how you're going to perform."
Meanwhile, Jeanne Marie Arcinue of Cavite lost to local Dziththauly Ramadhan, the tournament top seed with an Elo rating of 2208.
Locals FM Kemas Ade Krisna Mausyach Suri, WFM Samantha Edithso and WFM Rasyid Nur Aini and Malaysian WCM Jia-Tien Chua were the other opening-day winners in the event supported by the Indonesian Chess Federation. (PNA)