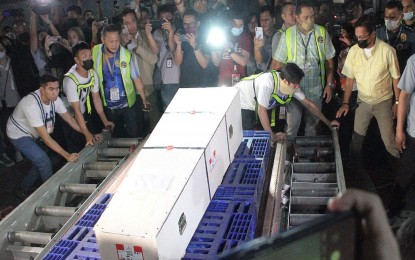 MANILA – An official of the Department of Migrant Workers (DMW) said Saturday they are looking to revisit the current Bilateral Labor Agreement (BLA) with Kuwait to further protect overseas Filipino workers (OFWs) following the killing of Jullebee Ranara by her employer's son.
"The directive of Secretary Toots (Susan) Ople (is) that it is time to revisit or review the labor agreement to further strengthen the protection of OFWs," DMW Undersecretary Hans Leo Cacdac said during the Saturday News Forum at the Dapo Restaurant in Quezon City.
The BLA was signed by the Philippine and Kuwaiti governments in 2018.
Cacdac added that they would also look into recruitment standards to ensure that only agencies with good track records could employ Filipino workers.
He said the National Bureau of Investigation would conduct an autopsy on the body of the slain OFW, whose remains arrived in the country from Kuwait on Friday night.
The burned body of 35-year-old Ranara was found abandoned in the middle of a desert.
The 17-year-old suspect is under police custody.
Cacdac noted that Kuwaiti authorities are constantly coordinating with the Philippine embassy on the progress of the case.
"The case is now under a prosecutor and we are awaiting official findings," he said.
Fact-finding team
Ople said a fact-finding team will be sent to Kuwait to assess the performance of its overseas labor post and review pending welfare cases in the Arab country.
Ople tasked Cacdac to organize the fact-finding mission to be led by a senior labor attaché posted outside Kuwait.
"We in the department must go by an evidenced-based approach to labor reform policies. Given also the increase in deployment and welfare numbers in Kuwait last year, it is imperative that we look at the root causes behind these numbers," Ople said in a statement.
She said the independent team will make an assessment on the over-all performance and structure of the Migrant Workers Office (MWO) or what was known as the Philippine Overseas Labor Office (POLO) in Kuwait.
"With more than a hundred thousand kasambahays in Kuwait, the DMW must increase the monitoring and response mechanisms of our MWO," Ople said.
Among the parameters the fact-finding team will review include a comparative study on the number of welfare cases of distressed OFWs over a period of five years, what triggered the rise in these cases, the response time of both Philippine and Kuwaiti authorities and recruitment agencies in addressing calls for assistance and how engaged were foreign recruitment agencies (FRAs) in monitoring their workers and screening their employers.
"They will look into the reason behind the inordinately high welfare cases in Kuwait over the past several months. Also, they will investigate if there were lapses on the part of the Migrant Workers Office (MWO) in responding to calls for welfare assistance among our OFWs," she said.
"The report of the fact-finding mission will be submitted to my office for appropriate action," she added. (PNA)