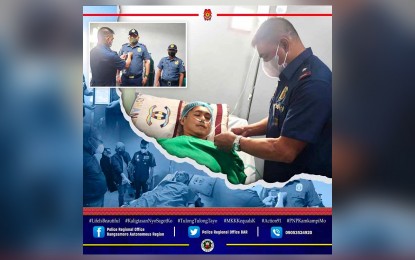 ZAMBOANGA CITY – A town police chief in Lanao del Sur province and two other cops were wounded Thursday in a firefight with suspected members of a terrorist group, according to a late report reaching here Saturday.
Major Bobby Egera, the police chief of Marantao town in Lanao del Sur, and his men Corporal Mujahid Taurac and Corporal Al-sadat Jahari were wounded when members of local terror group Dawlah Islamiya engaged them in a gunbattle around 2:30 p.m. in Barangay Nataron, Marantao town.
The policemen were supposed to serve an arrest warrant against Abbas Dimmang Rampa, when they were fired upon by the latter's group which eventually led to a gunfight, said Col. Richard Verceles, operations chief of the Area Police Command.
Rampa, who was listed as the number two most wanted person in Marantao, died during the firefight while two of his men identified as Ansaruna Mulingan Magi and Johari Taban Barani were captured by the authorities.
Verceles also said the policemen recovered at the clash site an M-16 Armalite rifle with ammunition, a grenade, 18 heat-sealed transparent plastic sachets of suspected shabu and drug paraphernalia.
He said the body of Rampa was immediately turned over to his family for burial under Islamic beliefs.
Meanwhile, Brig. Gen. John Guyguyon, Police Regional Office-Bangsamoro Autonomous Region director, on Friday, awarded the "Medalya ng Sugatang Magiting", to the three wounded policemen for gallantry in action.
Guyguyon conferred the medal and gave financial assistance when he visited the three wounded policemen at the Amai Pakpak Medical Center in Marawi City. (PNA)