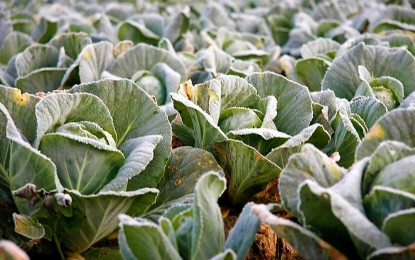 BAGUIO CITY – Benguet farmers are not expecting huge losses from crop damage as a result of frost.
The Department of Agriculture in the Cordillera Administrative Region (DA-CAR) said this is because vegetable farmers have mastered the system to avoid frost from damaging plants during the cold months of the year.
"Frost has been there even when the present farmers were not yet born and they have learned to adapt to it. The farmers' practice relative to the situation is to sprinkle the frost-affected crops with water using either rain burst or power sprayers to get rid of the icy water before the sunlight reaches the crops," the DA-CAR said in a press release shared with the Philippine News Agency on Monday.
The frost phenomenon happens in high-elevation areas in the provinces of Benguet and Mountain Province and is experienced yearly when the temperature in this mountain region drops to a single digit, usually during December, January and February.
Based on information obtained by DA-CAR, the frost, locally known as "andap" was observed in Benguet, specifically in the grassland of Mt. Pulag in Kabayan last Jan. 24, and in the vegetation areas of Paoay, Atok, and Madaymen, Kibungan starting Jan. 26.
The occurrence was also reported in Balicanao, Sadsadan, Mt. Data, Pactil and Monamon Sur in Bauko, Mt. Province.
Pagtan said they have yet to receive a written damage report from the municipalities.
The DA said the local government units, through the municipal agriculture offices (MAO), are closely monitoring the frost situations in their area.
In an earlier interview with Dr. Cameron Odsey, DA-CAR director, he said "they (farmers) will water the plants using the water sprinkler at dawn, before the sun rises, to melt the ice and prevent the sun's ray from damaging the leaves."
In case the outer leaves are damaged, the farmers simply remove them and the remaining leaves are still sold, he added. (PNA)