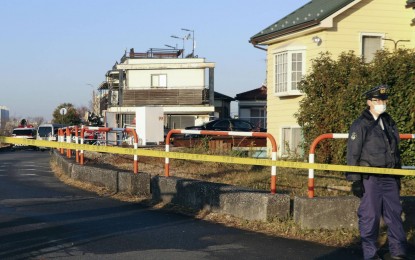 MANILA – The Department of Justice (DOJ) will go after lawyers of detained foreign nationals who initiate "contrived" criminal cases against their clients to stall deportation proceedings.
In a press briefing on Tuesday, DOJ Secretary Jesus Crispin Remulla cited the case of a male detainee who conspired with his girlfriend.
The detainee kissed the girlfriend during her visit at the Bureau of Immigration detention center in Bicutan, Taguig City and was sued for harassment.
"Their lawyers specialize in these cases and many of them will lose their licenses if they continue doing this. We will file cases even against the lawyers if they will insist on filing cases which are contrived," Remulla said.
Remulla said the scheme was discovered when they deported two Chinese nationals two weeks ago after their contrived cases were dismissed.
"This is part of the corruption ring that operates within the Bureau of Immigration. Many lawyers think it is okay to do that. The Department of Justice will not tolerate their behavior. We will file the disbarment of lawyers who insist on using these tactics that will delay the proceedings," Remulla said.
Remulla also said two of four detainees associated with Japanese burglary suspect Yuki Watanabe (alias Luffy) may be deported within the week.
"We are trying to finish these cases prior to the President's trip [to Japan in mid-February) so this will not be the focus of media because this will be a distraction. So we are trying to do our best to finish the deportation proceedings as soon as possible," Remulla said.
An online report of Japan Today on Monday said Watanabe and his men are among the suspects in some 20 cases of theft and robbery in 14 prefectures since last year, including the murder-robbery of 90-year-old Kinuyo Oshio at home in Komae City, western Tokyo on Jan. 19, citing data from Japan's National Police Agency.
Over 30 suspects have been arrested in connection with the crimes.
Watanabe was arrested in 2021 under an Interpol (International Criminal Police Organization) blue notice, which entails collecting additional information about a person's identity, location or activities in relation to a criminal investigation.
He is also facing charges for Violence Against Women and Children Act, hence his deportation cannot proceed yet. (PNA)