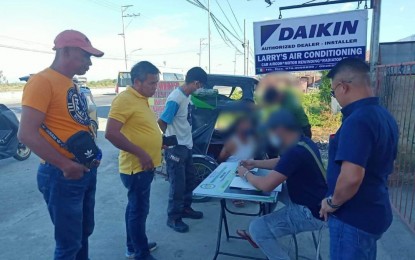 BINMALEY, Pangasinan – Authorities have arrested a member of the Public Order and Safety Office of this town, who is also a former jail officer in the Pangasinan Provincial Jail, that made him a high-value target (HVT), in a buy-bust operation.
In an interview on Tuesday, PDEA Pangasinan provincial head Rechie Camacho identified the suspect as Rullie Molano who sold PHP3,400 worth of suspected shabu to a PDEA agent in the operation conducted on Jan. 29.
"Upon verification, we have learned that he was also a former member of the Integrated National Police officer and Jail Officer of Pangasinan Provincial Jail making him an HVT in the province," he said.
Camacho said the suspect has been dealing illegal drugs, based on their monitoring and surveillance, while he was on duty as a traffic enforcer in the town.
"This was our second attempt to deal with him but on our first attempt, he ran out of illegal drugs this time we were able to transact with him. He was dealing illegal drugs while wearing his uniform on the streets," he said.
He added that the suspect's transactions were mostly in Binmaley town and Dagupan City.
Camacho said the suspect was automatically removed from his post as an enforcer and cases were filed against him in the court.
He reminded the local government units to constantly monitor their personnel.
Meanwhile, Camacho said three towns in the province will be opening their Balay Silangan drug reformation center by next month.
"We have already conducted an inspection in these proposed reformation centers in San Quintin, Binalonan, and Manaoag towns," he said.
He added that they are also working on barangay drug clearing operations alongside the anti-drug operations in the province.
Out of the 1,364 barangays in the province, there are now 1,089 drug-cleared barangays while 183 are still pending and the rest are drug-unaffected.
There are 15 drug-affected municipalities and three cities out of the 44 towns and four cities in the province, while one town is unaffected.
The towns of Asingan, Balungao, Basista, Sison, Umingan, San Fabian, and San Carlos City have the Balay Silangan reformation facility.
Surrenderers in the Balay Silangan undergo general interventions like continuing education, health awareness, and psychological, spiritual, and physical activities such as counseling, moral recovery, values formation and personal and life skills. (PNA)