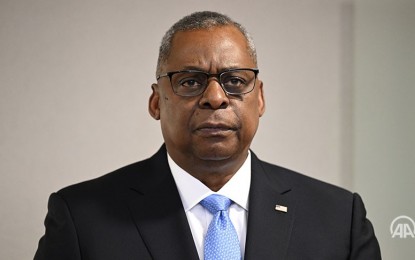 MANILA – The upcoming visit of United States Defense Secretary Lloyd Austin to the Philippines would strengthen the two nations' alliance and existing defense agreements, Philippine Ambassador to the US Jose Manuel Romualdez said Tuesday.
Romualdez said Austin is expected to arrive in Manila after a stop in South Korea by Tuesday night or Wednesday morning.
Austin will pay a courtesy call on President Ferdinand R. Marcos Jr. and hold meetings with Department of National Defense (DND) Secretary Carlito Galvez Jr., Armed Forces of the Philippines chief of staff Gen. Andres Centino, and Foreign Affairs Secretary Enrique Manalo.
"It's an ongoing relationship that we've had with the United States. As President Marcos has pointed out, it's evolving. So our military alliance, our Mutual Defense Treaty, our Visiting Forces Agreement are obviously part and parcel of that entire relationship that we have with the United States so obviously that visit will reinforce all of these agreements that we have," Romualdez said in a press conference in Makati.
He, however, deferred to the DND when asked if an agreement on the five additional facilities under the Enhanced Defense Cooperation Agreement (EDCA) would be ripe when the US official arrives in the country.
Manila and Washington DC are expected to discuss "speeding up the implementation" of the EDCA during Austin's trip, the US Department of Defense said in an article dated Jan. 29.
The US Defense chief, it added, would focus on capabilities and interoperability as "key to deterring any challenge in the region" amid the complex security environment in the Indo-Pacific region.
The two countries have already agreed to fully implement the EDCA through "expedited completion" of projects in existing agreed locations and finalizing procedures for the adoption of additional sites during the 10th US-Philippines Bilateral Strategic Dialogue in late January.
In a separate interview, Romualdez explained that the construction of facilities is consistent with the AFP's modernization program and would also help boost the country's disaster resiliency efforts.
"This would be good for us because it will develop many of our bases, keep it up to speed on what is really needed. And they (the US) are going to be the one to spend for it. That's the most important thing and these are not bases not at all," he said.
"It's already there existing. Nasa atin na iyan (That's already there). They're just going to enhance it so to speak, to make it more modernized. And that's part of our AFP modernization program anyway."
The EDCA, signed in 2014, allows US troops to operate on a rotational basis in designated facilities within the country.
Among the US activities identified are security cooperation exercises, joint and combined training activities, and humanitarian assistance and disaster relief efforts. (PNA)