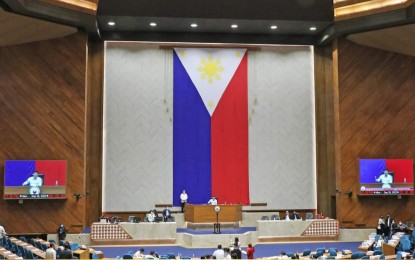 MANILA – The House of Representatives on Tuesday approved on third and final reading a bill condoning unpaid interests, penalties and surcharges on loans obtained by farmers, fisherfolk and agrarian reform beneficiaries from government agencies.
House Bill 5702, or the "Agrarian and Agricultural Loan Restructuring and Condonation Act" was passed with 271 votes, no negative votes and no abstentions.
The bill mandates the one-time condonation of unpaid interests, penalties and surcharges of agricultural and agrarian loans secured by farmers, fisherfolk and agrarian reform beneficiaries from the Department of Agrarian Reform (DAR), Department of Agriculture (DA), People's Credit and Finance Corporation (PCFC), Cooperative Development Authority (CDA), National Food Authority (NFA), and the Quedan and Rural Credit Guarantee Corporation (QUEDANCOR) prior to the effectivity of the measure.
Also covered are cooperatives registered with the CDA, and farmers' and agrarian reform beneficiaries' organizations that have secured loans from the six agencies.
Those qualified would be required to file an application for condonation with the agencies from which they obtained their loans.
The measure provides that bases for the condonation shall be limited to cases involving force majeure or market aberration, and shall, in no case be applied to cases resulting from the willful default of the borrower to pay such loans.
The measure defines force majeure as "events, whether natural or political, beyond the reasonable control of a borrower, which have a material adverse effect on the ability of the borrower to pay an obligation."
On the other hand, market aberrations are "unusual adverse movements in market prices which have detrimental effects on the yield and income of farmers, fisherfolk and agrarian reform beneficiaries."
The bill provides that after the condonation of interests, penalties and surcharges, the loans would be restructured and the good credit standing of farmers, fisherfolk and agrarian reform beneficiaries would be restored, provided that they have made three consecutive payments on their reshaped borrowings.
Speaker Ferdinand Martin G. Romualdez lauded the passage of HB 5702 at the House, saying the measure, once enacted into law, would benefit hundreds of thousands, if not millions, of tillers of agricultural land and fisherfolk.
"The proposed law removes a heavy financial burden on their part, as it seeks to write off millions in interests, penalties and surcharges on their loans. The condonation will be a big relief for our farmers and fisherfolk," he said.

"It would give those covered a clean credit record that could enable them to again avail themselves of government credit for production and other farming needs," he added.
Romualdez pointed out that among those covered by HB 5702 "are beneficiaries of the original agrarian reform program of the government, which the late President Ferdinand E. Marcos Sr. launched through Presidential Decree No. 27."
PD 27, which was issued on Oct. 21, 1972, is entitled, "Decreeing the emancipation of tenants from the bondage of the soil, transferring the ownership of the land they till and providing the instruments and mechanism therefor."
Romualdez said the Tenant Emancipation Decree of President Ferdinand Marcos Jr.'s father was the "mother" of all agrarian reform programs launched since the first Marcos administration.
Full insurance coverage to ARBs
With an overwhelming 271 votes, the House also approved on third and final reading HB 6680 mandating full insurance coverage to qualified agrarian reform beneficiaries (ARBs) of the Comprehensive Agrarian Reform Program (CARP) to provide aid and relief in times of natural calamities, pest infestations or even death.
"This measure, if enacted into law, is envisioned to help farmers recover from the adverse effects of circumstances that are beyond their control, such as natural calamities, the infestation of plant diseases and pests, or even death and injury of the beneficiary," Romualdez said.
"This is part of our legislative commitment to ensure food security by helping the hands that feed the nation – our farmers – and make sure they bounce back from any event that may affect their ability to produce the food we have on our tables," he added.
HB 6680 amends Republic Act 6657, as amended by RA 9700, otherwise known as the "Comprehensive Agrarian Reform Law of 1988."
It seeks to provide immediate financial assistance to ARBs in the event of natural calamities to make their losses more bearable and to mitigate the effects of these occurrences by providing full insurance coverage to these farmers.
Full insurance coverage, under the bill, is granted to all qualified agrarian reform beneficiaries who are actually tilling the land for compensable losses that are also defined under the measure.
HB 6680 also defined who the qualified ARBs are, and they are those mentioned in Section 3(b) of Republic Act 10000, otherwise known as the "Agri-Agra Reform Credit Act of 2009."
Compensable losses include those resulting from: natural calamities such as typhoon, flood, drought, earthquake, volcanic eruption, frost, and other destructive natural phenomena such as heat and hot wind; plant diseases caused by pathogens, bacteria, fungi, viruses, virus-like pathogens, and other similar foreign bodies; pest infestations caused by nematodes, insects, mites and spiders, millipedes and centipedes, symphylans, slugs and snails, sow bugs and pillbugs, parasitic higher plants, and other parasites; and loss of life or injury to the qualified ARB due to accident or any of the aforementioned causes.
For purposes of insurance coverage, the following crops and other farming and fishery produce are covered under the measure: palay, corn, sugarcane, high-value crops, coconut and tobacco; crops or stocks in fisheries farms; livestock; and non-crop agricultural assets used in actual farming and reported to and certified by the DAR.
The measure also provides penalties for farmer-beneficiaries who may misuse or divert the financial aid granted under the measure, including forfeiture of the land transferred to him or her, without prejudice to criminal prosecution.
Upon enactment into law, the measure mandates the Secretaries of the DA and the DAR to include the operationalization of the insurance coverage in their respective programs. (PNA)