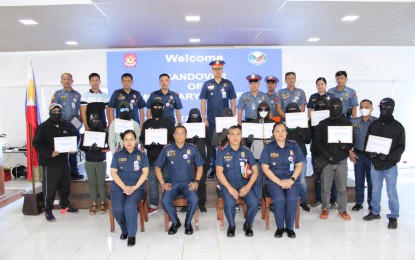 MANILA – The Philippine National Police (PNP) on Wednesday announced that it has paid more than PHP1.8 million worth of rewards to 11 informants who helped law enforcers arrest 13 suspects classified as among the most wanted criminals in the country.
The reward was given in simple rites at the PNP headquarters in Camp Crame, Quezon City on Monday.
PNP Directorate for Intelligence chief Maj. Gen. Benjamin Acorda said all those arrested were involved in heinous crime cases ranging from murder to rape, forcible abduction with rape, and multiple frustrated or attempted murder.
"These claimants provided vital information that led to the arrest of 13 fugitives from justice listed as Most Wanted Persons. Granting of monetary rewards to persons (except government employees) who are instrumental to the arrest, surrender, or death in legitimate operations of Most Wanted Persons is among the programs of the Philippine National Police for the immediate arrest of wanted persons in the country," Acorda said.
He urged the public not to be scared in reporting to authorities any suspicious individuals or activities in their surroundings.
"The PNP is grateful to everyone who came forward despite their personal risks and provided timely information that was necessary," Acorda said. (PNA)