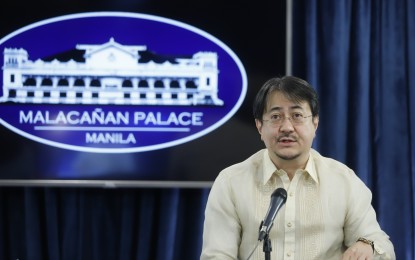 MANILA – The Philippines and Japan are expected to sign seven key bilateral documents or agreements and reaffirm their strong relations during President Ferdinand R. Marcos Jr.'s five-day working visit to Tokyo from Feb. 8 to 12.
Department of Foreign Affairs (DFA) Assistant Secretary for Asian and Pacific Affairs Neal Imperial said the bilateral documents will cover cooperation in infrastructure development, defense, agriculture, and information and communications technology, which are included in Marcos' priority agenda.
"The official working visit is expected to reaffirm the strong and vibrant relations between the two countries. It also seeks to maximize the full potential of the Philippines-Japan Strategic Partnership in all its aspects and facilitate closer defense, security, political, economic, and people-to-people ties," Imperial said in a Palace press briefing.
Imperial said the Philippine Department of Defense and Japan's Ministry of Defense are expecting the signing of an umbrella terms of reference of humanitarian assistance and disaster relief (HADR) cooperation with Japan.
An exchange of notes with regard to loan agreements on infrastructure namely the North-South Commuter Railway from Malolos, Bulacan province to Tutuban in Manila. Also expected to be signed are the North-South Commuter Railway Extension from Malolos to Clark International Airport and Tutuban to Calamba, Laguna. It will involve around USD3 billion worth of loans.
He said a proposed agreement on cooperation in the field of information and communications technology and a memorandum of cooperation (MOC) on agriculture cooperation are also expected to be signed.
"Under PJEPA, we are already exporting a lot of agricultural products to Japan. Hopefully this visit will result in more exports of agricultural products to Japan especially our bananas and hass avocado which we hope will gain better market access in the Japanese market," Imperial said.
Marcos' schedule
He said Marcos will leave Manila in the afternoon of Feb. 8 and will arrive in Tokyo in the evening. His official activities will begin on Feb. 9 with several important meetings, including one with Japanese Prime Minister Kishida Fumio.
"It will be the second face-to-face meeting between the two heads of government in less than five months after their first meeting at the sidelines of the United Nations General Assembly in September of last year," he said.
The bilateral meeting will be followed by a working dinner hosted by Kishida.
"Both leaders will discuss a broad range of bilateral and regional issues to further strengthen the two countries' cooperation in the 2nd decade of their Strategic Partnership," he added.
He added that Marcos and the First Lady will be given an Imperial audience with their Majesties Emperor Naruhito and Empress Masako at an unspecified date and time.
He said there will also be roundtable and business meetings, business calls on the President and business seminar on Feb. 9 and 10.
"The President will also witness the signing of several business deals," he said.
Marcos will be also meeting with CEOs of Japanese shipping companies and associations to advance partnerships with Philippine stakeholders in maritime education and welfare programs for our seafarers as part of commitment to enhance global competitiveness of Filipino seafarers.
Before flying back to Manila on Feb. 12, Marcos will be meeting with more than a thousand members of the Filipino community in Tokyo.
Marcos' trip to Japan will be his first visit there since assuming office in June last year.
Imperial said the DFA considers Marcos' visit to Japan as "consequential" since Japan is the first country which the Philippines has forged a Strategic Partnership and is among the two strategic partners of the Philippines aside from Vietnam.
He said Japan is also the only country with which the Philippines has a bilateral free trade agreement, the Philippines-Japan Economic Partnership Agreement.
In 2021, Japan was the Philippines' second largest trading partner, its third largest export market, and its second top source of imports.
Japan has also been the country's biggest bilateral source of active Official Development Assistance, providing concessional loans to finance important infrastructure and capacity-building projects, social safety net programs, education, agriculture, and science and technology support, and many other high-income programs.
Marcos will be accompanied by First Lady Liza Araneta-Marcos, former President Gloria Macapagal-Arroyo, Senate President Miguel Zubiri, House Speaker Martin Romualdez, Secretary of Foreign Affairs Enrique Manalo, Finance Secretary Benjamin Diokno, Trade and Industry Secretary Alfredo Pascual, Energy Secretary Raphael Lotilla, Tourism Secretary Christina Frasco, Special Assistant to the President Antonio Lagdameo Jr., Presidential Communications Office Secretary Cheloy Garafil, Bases Conversion and Development Authority Board of Directors Chairperson Delfin Lorenzana, and other Cabinet secretaries and undersecretaries. (PNA)