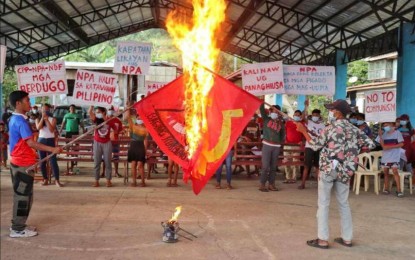 CEBU CITY – An Army official on Wednesday urged members of the Communist Party of the Philippines-New People's Army not to terrorize innocent civilians as he condemned the series of killings allegedly perpetrated by rebels in Negros Island over the past week.
"The CPP-NPA has once again displayed their murderous nature to terrorize and instill fear (in) the peace-loving communities in the region. These cold-blooded murders are manifestations of their complete disregard (for) the lives of our people just to advance their terroristic goal," Lt. General Benedict Arevalo, chief of the Visayas Command (Viscom), said.
Arevalo said CPP-NPA, through its rebel units, has claimed responsibility for five deaths last month.
Leonardo Panaligan Command-New People's Army (LPC-NPA) Central Negros Guerrilla Front had reportedly admitted behind the killing of councilman Cerilo Balasabas, 48, of Barangay Guba in the town of Vallehermoso in Negros Oriental on Jan. 14 for allegedly spying for the government.
A certain "JB Regalado" who claimed to be LPC-NPA spokesperson, said they murdered Balasabas when he acted as an intelligence asset of the Army's 62nd Infantry Battalion (IB).
Accordingly, Balasabas was instrumental in the residents' decision to withdraw their support to the communist movement but the rebels accused him of threatening and red-tagging people to force them to surrender to the government.
A 29-year-old civilian, Raffy Estorco, of Barangay Macagahay in Moises Padilla town in Negros Occidental, was shot dead by unidentified men on Jan. 19 while driving a motorcycle for his alleged work with the military.
The NPA's Armando Sumayang Command also admitted responsibility for the death of a civilian identified as Silas Granada who was killed on Jan. 28 in Sitio Tugas, Barangay Pinggot, Ilog, Negros Occidental.
The other victims were Ramel Europa, who was gunned down at Sitio Sambag, Barangay Manghanoy, La Castellana in Negros Occidental on Jan. 23; Regie "Gang Gang" dela Cruz was killed on Jan. 25 at Sitio Maiti, Barangay Buenavista, Himamaylan City in Negros Occidental.
Arevalo assured the families of the victims that "the perpetrators of these horrible acts will be held accountable".
"We will further intensify our efforts to achieve justice for our people and put an end to the CPP-NPA's menace in the region," he said. (PNA)