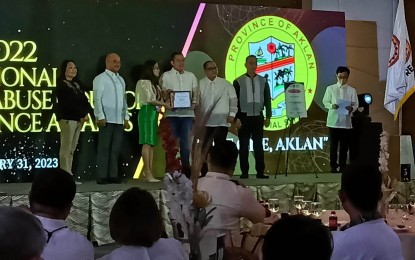 ILOILO CITY – Seventy-nine anti-drug abuse councils (ADACs) in Western Visayas were recognized by the Department of the Interior and Local Government (DILG) as best performing and functional during the 2022 Regional Anti-Drug Abuse Council Performance Awards held in Iloilo City Tuesday afternoon.
DILG Secretary Benjamin Benhur Abalos Jr., in his message delivered by Bureau of Local Government Supervision OIC Director Debie Torres, said their contribution helped in maintaining peace and order in the country.
"Your significant contribution and outstanding performance, especially our committed local chief executives, has helped the nation maintain peace and security by keeping illegal drugs at bay protecting our vulnerable communities. We are reminded that everyone contributes to the success of our anti-illegal drug campaign," he said.
The awardees underwent a performance audit and assessment by the national ADAC team.
Those that got a high functionality rating were subjected to awarding assessment with criteria focusing on the functionality of barangay ADAC and reduction of drug affectation at 30 points each and drug clearing with 40 points.
Those that garnered at least 75 points qualified for the awards.
The awardees included the provincial government of Aklan, Guimaras, Iloilo and Negros Occidental and Bacolod City.
Also awarded were 10 municipalities each in Aklan and Antique, 11 local government units (LGUs) in Capiz, three in Guimaras, 22 in Iloilo, and 19 in Negros Occidental.
Last year, 18 ADACs were already recognized in a national awarding ceremony held in Manila.
In the same occasion, the municipalities of Libacao in Aklan, Dao in Capiz, Jamindan in Capiz and Bingawan in Iloilo were also recognized as drug-cleared municipalities.
Simultaneous with the awarding was the regional launching of the Buhay Ingatan, Droga'y Ayawan (BIDA) program of the department.
"Our prime concern is to intensify efforts against illegal drugs in accordance with the law. That is why today, we launch the Buhay Ingatan, Droga'y Ayawan (BIDA) Program. This program calls for the support of LGUs, partner government agencies, local stakeholders and organizations in order to advocate the reduction of drug demand to all sectors of community," said DILG Regional Director Juan Jovian Ingeniero in his message. (PNA)