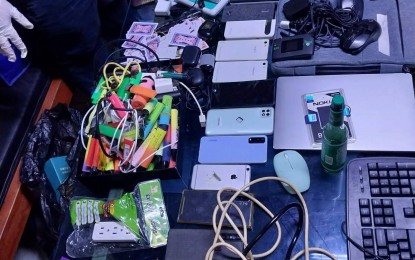 MANILA – Immigration authorities confiscated gadgets, among others, in a surprise raid of its warden facility inside Camp Bagong Diwa, Taguig City.
In a statement Wednesday, Bureau of Immigration (BI) Commissioner Norman Tansingco said the three-hour inspection held at around 2:30 a.m. Tuesday yielded prohibited items such as sharp objects, construction tools, cigarettes, cellular phones, laptops, modems and undeclared cash.
The confiscated items were sealed and kept by members of the BI Intelligence Division, who were assisted by 84 police officers and Special Weapons and Tactics (SWAT) personnel from the National Capital Region Police Office (NCRPO) during the raid.
"We sent a letter to the NCRPO the other day (Monday) requesting their assistance in the massive raid that we are conducting. We are thankful that they extended their assistance and support to our efforts," the BI chief added.
The raid was in response to reports of illegal and undeclared objects inside the facility.
"We also conducted a spot drug test on all BIWF (BI Warden Facility) employees on duty. All yielded negative results," Tansingco said.
On the other hand, he ordered the strict implementation of the prohibition to use gadgets of fugitives from justice.
"We will not tolerate any misdemeanor in any office of the BI. May this serve as a warning to those who may attempt to smuggle illegal contraband inside the facility. We will be conducting numerous surprise inspections, and those who will be caught will be held liable," Tansingco added.
Last October, BI personnel intercepted two separate attempts to smuggle methamphetamine or shabu inside kimchi containers. (PNA)