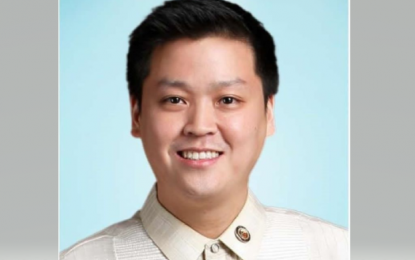 MANILA – Lawmakers on Wednesday lauded President Ferdinand R. Marcos Jr.'s move to appoint Valenzuela Rep. Rex Gatchalian as secretary of the Department of Social Welfare and Development (DSWD).
House Deputy Speaker Ralph Recto said Gatchalian is the right choice as shown by his performance during emergencies while he was the mayor of Valenzuela City.
"And if being a DSWD head requires the handling of disasters and managing development, he's been there and done that," the Batangas 6th District congressman said.
Recto said Gatchalian is well prepared for one of the "toughest and thankless" jobs in government.
"For one, he survived the stress test of being a big city mayor during the pandemic, a position which put him in close contact with the people and their problems. As a legislator, Rex is aware of the social causes of poverty which will drive him to focus on its roots, and not just on its symptoms," Recto said.
He said the Valenzuela lawmaker has what it takes to run DSWD which he described as "one gigantic ATM – Ayuda, Tulong Machine."
Excellent choice
Speaker Ferdinand Martin Romualdez also believes that Gatchalian is an excellent choice to head the DSWD, citing the latter's outstanding track record and long experience as a public servant.
"We know that you're going to do a fantastic job. You've done so well in Valenzuela, we know your public service, your dedication, your diligence, your energy, will translate to further success for the DSWD," he said.
"Congressman, now Secretary Rex, the loss of Congress is the gain of the DSWD. We wish you the best of luck. So mabuhay po ang DSWD with the assumption of the new Secretary. And we wish Sec. Rex Gatchalian ---a good friend of mine, a classmate of mine in the 14th Congress--- all the best. And for the DSWD, please continue your excellent service to the Filipino people," Romualdez said.
Cavite 4th District Rep. Elpidio Barzaga Jr. also hailed Gatchalian's appointment, saying the Valenzuela City lawmaker will make a huge difference as social welfare secretary.
In a statement, Barzaga said Marcos made a great choice in appointing Gatchalian as DSWD secretary because of the latter's sterling record both as a local chief executive and a lawmaker.
"Being a three-time mayor of Valenzuela City, his personal touch in attending to the needs of his constituents will be invaluable as he takes the helm of the DSWD. Rex has been my colleague in the House of Representatives where he was elected thrice, so I know his competence and capacity as a public servant and more importantly, I know that he has a heart for the poor," he said.
"He is a perfect fit for the role because he personally knows and has seen the problems of his poor constituents who are in need of medical assistance, livelihood and other basic services. It is therefore my honest opinion that our friend and colleague will succeed as Social Welfare Secretary not only because of his credentials but because of his genuine desire to serve the poor and uplift their lives," Barzaga said.
Meanwhile, Manila 6th District Rep. Bienvenido Abante Jr. said Gatchalian's nine years as a local chief executive will serve him well in the DSWD.
"Aside from an excellent track record as Valenzuela mayor, our former colleague has firsthand experience working on the ground, and is familiar with the concerns and challenges involved in implementing national social protection programs that target the poor, vulnerable, and the disadvantaged, such as the 4Ps," he said in a separate statement.
"It is this kind of experience that the DSWD secretary needs. His understanding of local government dynamics and the considerations in the frontlines will help him address the implementation gaps in the agency's many programs, which require coordination with local governments. I wish Sec. Gatchalian well on his new appointment, and have no doubt that he will be able to lead the DSWD with competence, integrity, and humility," Abante said.
Senator Nancy Binay also described Gatchalian as "good choice" due to his experience as local executive.
"Plus factor 'yung kanyang (his) familiarity with the disadvantaged sectors at the grassroots level," she said. "Being a hands-on local chief executive, he knows how to operationalize the range of social welfare services and mechanisms, at napakalaking bagay sa DSWD ang kanyang experience at exposure sa iba't ibang ground scenarios (his experience and exposure in different ground scenarios is his big advantage).
Gatchalian replaced Erwin Tulfo who failed to get the nod of the Commission on Appointments.
Vast experience
Quezon City Mayor Joy Belmonte said Gatchalian's vast experience and outstanding leadership made him fit to lead the DSWD as she personally witnessed how he responded to the Covid-19 pandemic when he was still mayor of Valenzuela.
"I am confident he will do justice to his new role as our nation's social welfare czar," Belmonte said in a statement. "These covered the pandemic years. During this period Ï witnessed then Mayor Gatchalian's outstanding leadership skills, including his progressive views, decisiveness, and hands-on style of governance."
Under the leadership of Gatchalian, Belmonte said Valenzuela was among the cities with the best Covid response program.
Moreover, his commitment and dedication to public service as a mayor earned for Valenzuela City countless accolades and recognitions including several coveted Galing Pook awards.
At the height of the pandemic, the city managed to launch the first localized mass testing in the country and opened a mega contact tracing center that operated 24/7.
When the enhanced community quarantine (ECQ) was implemented, Valenzuela City immediately started the distribution of food packs targeting especially those in the poor communities. (with reports from Jose Cielito Reganit/Marita Moaje/PNA)