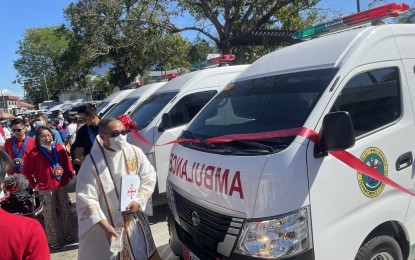 LAOAG CITY – A magnetic resonance imaging (MRI) scanner is now available at the provincial government-run Gov. Roque B. Ablan Sr. Memorial Hospital (GRBASMH) in this city, in a bid to expand and upgrade the healthcare services of the province of Ilocos Norte.
Funded by the Department of Health for PHP48.5 million, the MRI is meant to provide diagnostic procedures to stroke victims among others.
In his short speech during the inauguration at the provincial hospital on Wednesday, Governor Matthew Joseph Manotoc said it is the first time that the provincial hospital is getting this kind of medical equipment.
In addition, five fully-equipped ambulances, also from the DOH, were turned over on the same day.
These vehicles are part of the seven ambulances that the DOH had pledged to the province. They will be given to the district hospitals in the towns of Sarrat, Piddig, Vintar, Bangui and the provincial hospital to transport patients, particularly those who live in far-flung areas.
Two more ambulances are expected to be delivered soon to the second district of the province.
"We have made many improvements in the hospital but it is still a work in progress," said Manotoc.
Ilocos Norte First District Representative Ferdinand Alexander Marcos had initially requested 12 ambulances from the DOH but only five have been delivered so far.
Following the signing of a memorandum of agreement with the Ilocos Norte government, DOH regional director Paula Paz Sydiongco appealed to the recipient LGUs to take good care of the medical equipment.
As part of the licensing requirements for the ambulance, the ownership will be transferred under the name of the recipient within six months.
Meanwhile, the governor also vowed to increase the salary of healthcare professionals in the province.
"We will make sure to make you happy as we intend to hire more medical professionals in the province," said Manotoc. (PNA)