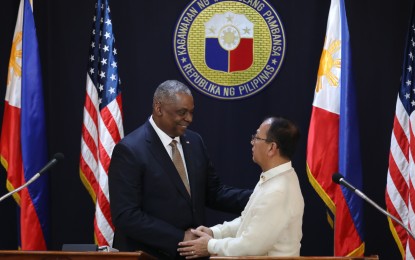 MANILA – United States Defense Secretary Lloyd Austin III on Thursday reaffirmed their commitment to the Philippines under the Mutual Defense Treaty (MDT) and emphasized US support in case of attacks.
"We (have) note that the MDT applies to armed attacks on either of our Armed Forces, public vessels or aircraft anywhere in the South China Sea or West Philippine Sea. We discussed concrete actions to address destabilizing activities in the waters surrounding the Philippines including the West Philippine Sea," Austin said in a joint press conference with Department of National Defense (DND) Secretary Carlito Galvez Jr. held shortly after their meeting in Camp Aguinaldo, Quezon City.
Austin said they are "committed to strengthening our mutual capacities to resist armed attack".
This includes ongoing efforts to modernize the Philippine-US alliance, he added.
"These efforts are especially important as (the) People's Republic of China continues to advance its illegitimate claims in the West Philippine Sea," he added.
Austin also expressed hope for a brighter future for the two nations' alliance in working "to defend our shared values of freedom, democracy and human dignity."
"As you heard me say, before, (the) United States and the Philippines are more than just allies, we're family," Austin stressed.
Strong bond
Meanwhile, Galvez the visit of his US counterpart to the country signifies a strong bond and enduring partnership between the Philippines and the United States, particularly in the areas of humanitarian assistance, economic development and peace and security among others.
This commitment will allow the relationship between the two countries to become "stronger and robust," he added.
"Moreover, the trip of the Honorable Secretary Austin symbolizes the United States government's steadfast commitment to help its allies in preserving a free and open Indo-Pacific. Our nation shares the belief that sustainable development and genuine peace should go hand-in-hand," Galvez said.
During their meeting, Galvez said their priorities include the full implementation of the Enhanced Defense Cooperation Agreement (EDCA) by completing the ongoing projects.
This includes agreement to designate new sites where EDCA agreed locations may be developed.
"We will work on the timely conclusion of the framework of cooperation that will facilitate secure exchange of information between our defense establishments. We also encourage the continued planning and conduct of high-impact and high-value activities, primarily through the Philippine-US Mutual Defense Board-Security Engagements Board or (MDB-SEB), and other Philippine-US cooperative mechanisms," he added.
Both defense chiefs also agreed to deepen bilateral cooperation to support the Philippines' defense capability needs as well as the alliance between the two nations.
"The bilateral meeting we had today (Thursday) will further strengthen our nation's collaborative efforts in addressing present security threats within the region as well as effectively dealing with the natural disasters caused by climate change, a major global concern we need to confront head-on," Galvez said.
The DND chief also pledged to continue working towards maintaining a stable, rules-based, open and inclusive Indo-Pacific region along with partner countries.
"We strongly oppose any unilateral action or attempt to disrupt current world order, and share the same views that all countries should resolve any issue peacefully and adhere to international law, particularly the United Nations Convention on the Law of the Sea or UNCLOS," he added.
Galvez also thanked the US for its continued support in the country's ongoing fight against Covid-19 and counter-terrorism efforts in the southern part of the Philippines.
"Our discussion focused on how our countries could continue to work together in order to preserve the Philippine territorial integrity. We also talked about the initiatives that our nations can carry out to mitigate the impact of climate change in our societies. These efforts, which we hope to jointly undertake is in line with the guidance of President Ferdinand R. Marcos (Jr.) and that is for the defense department to make sure that not an inch of our nation's territory will be lost and our people's safety and security will be ensured by the strengthening of our diplomatic relations with our allies, preserve peace, and create a stable international environment in the Asia-Pacific region," he added.
Productive
Meanwhile, Austin said his meeting with Galvez is "very productive" and looks forwards to working more closely with his Filipino counterpart.
"Now, this is the fourth discussion that I had with the DND leaders since the start of the Marcos administration and that just underscores the importance that both of our countries place on this relationship. This is our oldest treaty alliance in Southeast Asia. We conduct more than 500 defense engagements together every year," the American official pointed out.
Also, Austin said US President Joseph Biden have made it very clear about American commitment to Philippine defense.
"President Biden has made clear America's commitment to the defense of the Philippines is iron clad, our alliance makes both of our democracies more secure and helps uphold a free and open Indo-Pacific and today we discussed ways to make this vital alliance even stronger," he added.
He also said that they are pleased with the decision of President Marcos to approve four new EDCA locations bringing the total number of the sites to nine.
'Common aspiration'
Hours after the announcement, China accused the US of having a "zero-sum game mentality" by continuing to step up its military posture in the region.
"China always holds that defense and security cooperation between countries should be conducive to regional peace and stability, not target against any third party, even less to harm the interests of a third party," the Chinese Embassy in Manila said in a statement Thursday.
"Its actions escalate regional tension and undermine regional peace and stability," it added.
The embassy also dismissed the US Defense chief's remarks over the South China Sea as contradictory to the "common aspiration" for regional peace.
"It is hoped that the Philippine side stays vigilant and resists from being taken advantage of and dragged into trouble waters," it said. (with reports from Joyce Rocamora/PNA)