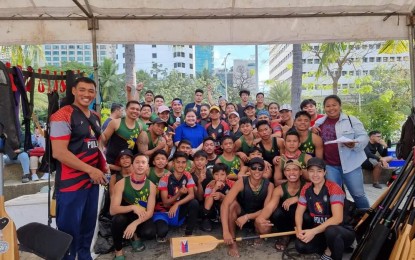 LUCENA CITY – Fresh from its triumph at the Philippine Dragon Boat Regatta held in celebration of the Chinese New Year at the Manila Baywalk Dolomite Beach, the Polillo Dragon Boat team is training its sight on the 16th IDBF World Dragon Boat Racing Championships to be held in Thailand this August.
Ginalyn Flores, municipal councilor of Polillo town in Quezon province and manager/coach of the Polillo Dragon Boat team, is hoping their group will get the required endorsement of the Philippine Dragon Boat Federation (PDBF) to compete in the upcoming world championship event.
She also hoped that the local government of Polillo would pitch in additional support.
"In our recent competition, the Polillo municipal government gave us part of traveling expenses and annually, we are provided with enough budget assistance for food. But me and my husband mostly shoulder the bulk of expenses from our own pockets, especially when we compete," Flores said in a phone interview on Thursday.
The Polillo Dragon Boat team, established by the Flores couple in 2017, is composed of more than 30 students who are all residents of the town and aged between 15 and 30 years old.
Flores said in their most recent triumph at the 200-meter Open Standard Race in Manila, they finished second to the Philippine Army Dragon Boat team.
In October 2019, the Polillo team emerged as champion in the Sarawak International Boat Race in Sarawak, Malaysia.
Presently, Flores said they continue practicing and honing their skills and are encouraging other young people in Polillo to join them as they aim to become the best rowing team in the world. (PNA)