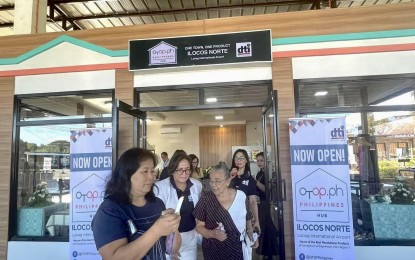 LAOAG CITY – The One Town, One Product Philippines Hub (OTOP PH Hub) at the Laoag International Airport, which sells homemade Ilocos products, has reopened and now occupies a bigger and more accessible space at the waiting area.
Department and Trade Industry (DTI) Ilocos Norte head Amelia Galvez expressed optimism that their quality products will get a boost with the reopening of the OTOP PH hub which earlier shut down due to the pandemic.
"The establishment of the OTOP hub at the airport was a product of the productive collaboration of the DTI, the Office of the Congressman of the 1st District of Ilocos Norte, and the Civil Aviation Authority of the Philippines (CAAP)," she said.
In support of local entrepreneurs, the CAAP earlier agreed to the request of the DTI to provide a free venue to display locally-manufactured products at the airport.
According to the DTI, the prices of the products on display at the OTOP hub are lower compared to those being sold in other commercial establishments as these came directly from the manufacturers.
Initiated by the DTI in 2002, OTOP Philippines is a priority stimulus program for micro, small and medium-scale enterprises (MSME) as the government's customized intervention to drive inclusive local economic growth.
The program enables localities and communities to determine, develop, support and promote products or services that are rooted in their local culture, community resource, creativity, connection and competitive advantage.
Prior to displaying their products at the airport, the participating local entrepreneurs underwent a mentoring program to ensure their products meet international quality standards.
"We are grateful for the assistance of the DTI for their mentoring programs and for giving us the opportunity to widen our market," said Charito Cariaga, a master weaver of Abel products in Paoay, Ilocos Norte, on Friday.
At 81, Cariaga is among the most active partners of the DTI who never misses an opportunity to participate in trade fairs and other innovative programs meant to improve the loom weaving industry in the region. (PNA)