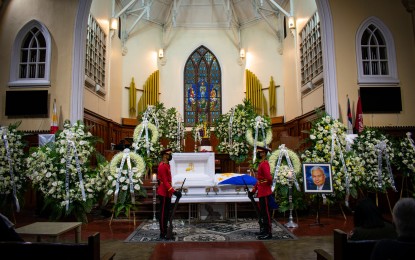 DUMAGUETE CITY – Arrangements are now being readied for a state funeral for National Scientist, Dr. Angel C. Alcala, who passed on Wednesday at a hospital in this capital of Negros Oriental province.
Silliman University president Dr. Betty McCann has written the National Academy of Science and Technology (NAST) and the Armed Forces of the Philippines (AFP) to facilitate the state funeral for Alcala.
A state funeral is given to Filipinos who were conferred with National Artist or National Scientist recognition, and the expenses shall be shouldered by the government as mandated by Executive Order No. 131.
The late former President Benigno Simeon Aquino III recognized Alcala as a National Scientist of the Philippines in the field of Biological Sciences for his research work on amphibians and reptiles, marine biodiversity, and marine protected areas in 2014.
Alcala, aged 94 at the time of his death, was appointed by then President Fidel Ramos as Secretary of the Department of Environment and Natural Resources from 1992-1995 and later as Commission on Higher Education (CHED) chair from 1995 to 1998.
He was the 9th president of Silliman University from 1991-1992 and served as a member of the Board of Trustees until his death.
He was renowned internationally for various research and publications and received a multitude of awards for his contribution to science and the field of environment.
Brig. Gen. Leonardo Peña, commander of the 302nd Army Infantry Brigade based in Tanjay City, Negros Oriental, told the Philippine News
Agency on Friday they are awaiting final orders from the AFP hierarchy for the state funeral.
Protocols include a 21-gun salute, the playing of taps, and pallbearers, among others.
Vigil guards from the Philippine Army have also been assigned already to the wake of the late scientist, Peña said. (PNA)