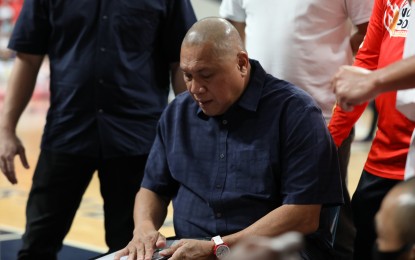 ANTIPOLO – Pido Jarencio is back as the University of Santo Tomas (UST) head coach.
School officials introduced Jarencio to the team's current members during their practice on Friday at the UST Quadricentennial Pavillion in Manila.
Jarencio replaced Bal David who, like his successor, is a former Growling Tiger and Barangay Ginebra star.
While Jarencio was only introduced to the team on Friday, the appointment was made official on Wednesday according to a statement.
"The University of Santo Tomas announces the appointment of Mr. Alfredo 'Pido' Jarencio as head coach of the UST Men's Basketball Team effective February 1, 2023," the statement read.
Signs of Jarencio making a return to the Growling Tigers surfaced as early as the start of the PBA Governors' Cup when NorthPort announced a switch in positions that saw Jarencio becoming the team's new manager and Bonnie Tan taking over as interim head coach.
Last week, David tendered his resignation as UST coach after a forgettable UAAP Season 85 that saw the team lose 13 straight games after winning its season opener, the team's worst record in recent memory.
Tan, who was once linked to the UST head coaching job after steering sister school Letran to an NCAA men's basketball three-peat, has been named to Jarencio's coaching staff as the team consultant.
Waiyip Chong and Eric Ang, who also hold posts in the Batang Pier team management, have been named team managers.
Jarencio's fellow PBA legend Rodney Santos, who was David's lead assistant coach last year, remains in the UST coaching staff even as Japs Cuan and Jeric Fortuna, Jarencio's star point guards during their UAAP playing days, have been named into the coaching staff as well.
The Growling Tigers last won the UAAP title in 2006, in Jarencio's first year as head coach. (PNA)