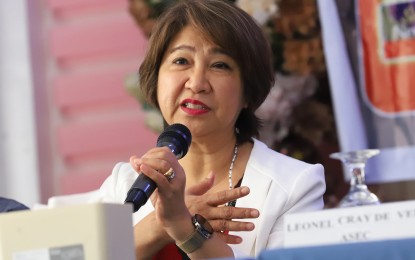 MANILA – The National Economic and Development Authority (NEDA) is vetting a total of 206 major projects and is expected to come up with a final list by the end of the first quarter, a ranking official said Saturday.
NEDA Undersecretary Rosemarie Edillon said this initial 206 are only the administration's "flagship projects" included in a much longer list of about 3,000 more programs that span up until 2028.
In the Saturday News Forum at the Dapo restaurant in Quezon City, Edillon said this number could still be trimmed down depending on a project's viability and cost-effectiveness.
"Iyong listahan na iyon, we will come up with it. It will be uploaded on the NEDA website by the end of this first quarter (That list, we will come up with it, it will be uploaded on the NEDA website by the end of this first quarter)," she said.
The socioeconomic planning official said these government projects will be funded through various schemes such as public-private partnership (PPP), grants, and government allocation.
In implementing PPP projects, Edillon said the administration will focus on solicited PPPs, or those well-crafted and vetted projects, which could help the government achieve its targets of economic growth, increased employment and poverty reduction.
The NEDA Board, chaired by President Ferdinand R. Marcos Jr., recently approved seven "high-impact" projects, which include the construction of a 300-bed capacity cancer center in Manila, increasing the funding for the Metro Rail Transit Line 3 (MRT-3) rehabilitation project, the utilization of the Japan International Cooperation Agency (JICA) loan balance for the new Communications, Navigation, Surveillance-Air Traffic Management (CNS-ATM) system, and the construction of new Dumaguete Airport Development Project.
Transportation Assistant Secretary Leonel Cray De Velez, in the same forum, said the PHP7.6-billion funding for the Metro Rail Transit-3 would support the maintenance and "additional rehabilitation" needed to sustain the train system.
"What are those? Primarily the bogies, the wheel itself. So Sumitomo identified that there is a need for additional wheels for rehabilitation," he said.
Meanwhile, other projects approved or confirmed by the NEDA board include the Department of Agriculture's Mindanao Inclusive Agriculture Development Project (MIDP), and the Department of Public Works and Highways' (DPWH) PHP20-billion first phase of the Integrated Flood Resilience and adaptation project in three major river basins in the country. (PNA)