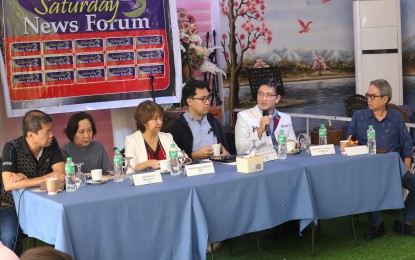 MANILA – The government has allocated PHP20 billion for the first phase of the Integrated Flood Resilience and Adaptation Project in three major river basins in the country.
Dolores Hipolito, Project Manager III of the Unified Project Management Office Flood Control Management cluster of the Department of Public Works and Highways (DPWH), said the multi-billion-peso project aims to mitigate flood damage, reduce flood risks, and improve climate resilience in Abra, Ranao (Agus), and Tagum-Libuganon.
"So unlike in the past, the focus of the DPWH is to provide structural measures or to construct these infrastructures. Here, we are looking at flood risk management. So this project includes three components: one component is the infrastructure of course; the other is to enhance the flood risk management of our government agencies and the local government units (LGUs); and the third is that we have a partnership with the local government units and with the Department of Interior and Local Government (DILG) for community-based flood risk measures," she said during the Saturday News Forum at the Dapo Restaurant in Quezon City.
The undertaking consists of the construction of flood protection infrastructures, the improvement of strategic flood risk management (FRM) planning, and the strengthening of community-based FRM measures, she said.
"So here, in these three river basins, we are aiming to protect agricultural lands aside from the community. So we will build various infrastructures from dikes, from revetments to some diversion channels. Let's also improve the existing structures and upgrade or rehabilitate them because there are already many built in the river basins and we just need to put some strengthening measures to do it," she said.
"Also, aside from that, we also have some bridges that will be constructed along with the project because 'when we put in those new infrastructures, the bridges have to be upgraded as well," the DPWH official added.
Flood protection infrastructures will be constructed and community-based FRM measures will be implemented in the following local government units: Abra River Basin - the municipalities of Bantay and Santa in Ilocos Sur (Region I) and the municipalities of Bangued, Bucay, La Paz, Lagangilang, Langiden, Manabo, Pidigan, Sallapadan, San Juan, San Quintin and Tayum in Abra (Cordillera Administrative Region or CAR); Ranao (Agus) River Basin - the municipality of Baloi, Lanao del Norte (Region X) and the municipalities of Poona Bayabao, Bubong, Tamparan, Taraka, Ditsaan-Ramain, Mulondo, Masiu and Lumba-Bayabao in Lanao del Sur (BARM); and the Tagum-Libuganon River Basin - Tagum City, and the municipality of Carmen, Davao Del Norte (Region XI).
Also, X-Band radars are proposed to be installed in the following locations to enhance rainfall monitoring and early flood warning: Abra River Basin - the municipality of Dolores, Abra (CAR); and Ranao (Agus) River Basin - Marawi City, Lanao del Sur (Bangsamoro Autonomous Region in Muslim Mindanao).
The project is approved by the National Economic Development Authority (NEDA) Board. (PNA)