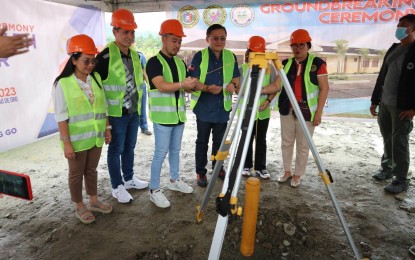 COMPOSTELA, Davao de Oro – Residents in this town as well as in neighboring municipalities will soon enjoy free and better services as officials broke ground for Davao de Oro's third "super health center" (SHC) in Barangay Maparat here on Saturday afternoon.
Dr. Anabelle Yumang, Department of Health-Davao Region (DOH-11) director, said the SHC is expected to be completed after 120 days.
"All services are free but it will really depend on the local government. But if possible, it should be free," she said in an interview.
The PHP11.5-million health facility is DOH-funded under its health facility enhancement program.
Other components, particularly the maintenance operation and staffing, will be shouldered by the local government unit (LGU).
The center will provide all basic health services -- including those that are specialized -- at the local level such as outpatient department, laboratory, X-ray, ultrasound, birthing services, diagnostic, pharmacy and emergency services, among others.
Four SHCs are expected to be established in Davao de Oro under the 2022 budget and another four using this year's funds.
The other SHCs are in Nabunturan and Montevista towns and a fourth facility will rise in Mawab, according to Yumang.
Senator Christopher Go, who graced the groundbreaking ceremony, said the DOH and LGU will facilitate the construction of the SHC.
"We have building permits already and the building officials should see to it the building standards will be followed," he said in an interview.
Go appealed to the DOH to closely monitor the construction of the SHCs and make sure that all patients are safe and comfortable.
On Feb. 2, the municipal government of Sarangani in Davao Occidental also broke ground for the town's SHC. (PNA)