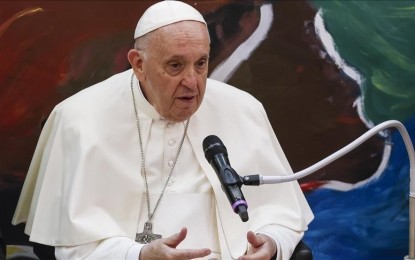 ISTANBUL – Pope Francis said Sunday that he is willing to meet with both Ukrainian President Volodymyr Zelenskyy and Russian President Vladimir Putin to negotiate for peace in Ukraine.
He made the remarks during a press conference on the return flight to Rome from South Sudan.
"I am open to meeting both presidents -- the president of Ukraine and the president of Russia. If I have not gone to Kyiv, it was because it was not possible at the time to go to Moscow, but I was in dialogue," he said, according to Vatican News.
"In fact, on the second day of the war, I went to the Russian Embassy to say that I wanted to go to Moscow to talk to Putin, provided there was a small window to negotiate. Then (Russian Foreign) Minister (Sergey) Lavrov replied that he was considering this but (said) 'Let's see later.'"
Pointing out that the Russia-Ukraine conflict is not the only war currently in the world, the Pope said that "for 12-13 years, Syria has been at war. For more than 10 years, Yemen has been at war. Think of Myanmar, of the poor Rohingya people who travel around the world because they have been driven out of their homeland…In Latin America…how many hotbeds of war there are!"
"Yes, there are more important wars because of the noise they make but, I don't know, the whole world is at war and in self-destruction. We have to think seriously: It is in self-destruction. We must stop in time, because one bomb draws back on you a bigger one and a bigger one, and in the escalation, you don't know where you will end up. We need to have a cool head."
The Pope added that he is thinking of visiting India in 2024. (ANADOLU)