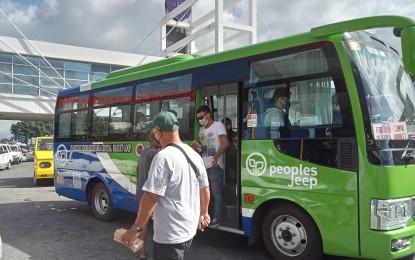 BACOLOD CITY – Some 350 units of modernized jeepneys have been plying the streets here as of this week in line with the implementation of the Public Utility Vehicle Modernization Program (PUVMP).
Mayor Alfredo Abelardo Benitez confirmed the number on Monday as he acknowledged the need to provide provisional authority to traditional jeepneys to meet the public transport requirements of Bacolodnons.
"It will be 500 (units) by March 31. Still short (of the required number) so special permits will still be given to traditional jeepneys," he added.
With the implementation of the PUVMP, operators of traditional jeepneys whose franchises have already expired will no longer be able to register and operate their vehicles if they fail to shift to modern jeepneys by applying for the available routes as a cooperative.
As part of the compromise, Benitez has agreed to support the granting of provisional authority to traditional jeepneys under certain conditions until March 31.
"Their vehicles should be roadworthy and they must have been issued a franchise before. This is the compromise between the modernization program and the transition going there," he added.
Once they meet the conditions and after being certified by the local government, they will be granted a special permit by the Land Transportation Franchising and Regulatory Board (LTFRB).
"They will bring the certification to the LTFRB and they will be issued a special permit," the mayor said.
As of Monday, some 1,100 traditional jeepney owners have applied for special permits.
"We're forwarding these to the LTFRB. That's how we will move forward. Those without certification and without special permit are technically illegal. We want to make sure that only the legalized traditional jeepneys and the modernized jeepneys will be allowed to operate," Benitez said.
He added that anytime soon, the Land Transportation Office will start apprehending public utility jeepneys without special permits. (PNA)