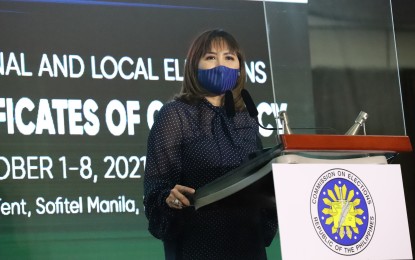 MANILA – A party-list lawmaker representing overseas Filipino workers (OFWs) on Monday called for a review and assessment of bilateral labor agreements (BLAs) entered into by the Philippines with countries of destination.
OFW Party-list Representative Marissa Magsino said the review and assessment of these bilateral agreements aim to ensure the protection of rights and welfare of OFWs particularly in cases of abuse, maltreatment and deprivation of life, and to secure the availability of legal remedies in their favor to assure justice.
"It is alarming that most of our BLAs are lacking explicit provisions relating to social security, equality of treatment, repatriation, and most importantly, on protocols governing the investigation and prosecution of criminal offenses committed against OFWs, and on legal remedies available to them and their families for redress of grievance and to secure justice. With the recent atrocities against our OFWs, it is high time for us to review and assess the substance and effectiveness of our BLAs," Magsino said.
Magsino said the review of all labor agreements entered by the Philippines with other countries would also determine specific guidelines and mechanisms needed for the protection of the rights of OFWs; as well as diplomatic actions and strategies the country has to pursue to ensure their incorporation in the BLAs and enhance their enforceability.
Citing the Department of Foreign Affairs (DFA), Magsino said there are 25 BLAs between the Philippines and other countries of destination, including Kuwait, Qatar, United Arab Emirates and Italy, among others.
She, however, noted that the Philippines appears to have no binding BLAs with other important and emerging countries of destination such as Singapore, Hong Kong, Malaysia, Brunei and Oman.
She said Republic Act No. 10022, or the 'Migrant Workers and Overseas Filipinos Act', also underscores the importance of the country entering into BLAs, which provides that the State shall allow the deployment of OFWs only in countries where the Philippines has concluded a bilateral agreement or arrangement with the government of the receiving country on the protection of the rights of OFW.
"Our bilateral labor agreements envelop the policy support for our OFWs while they are abroad. It must have decisiveness and grit to make sure there is no space for abuses against our OFWs. If there are some abuses, the agreements should provide for serious consequences that would deter foreign employers from committing a similar transgression," she said.
She filed House Resolution 743 urging the appropriate House committee to conduct the review and assessment of the existing BLAs.
The resolution was filed in light of the killing of Jullebee Ranara, the 35-year-old household worker whose burnt body was found in a desert in Kuwait in January. (PNA)