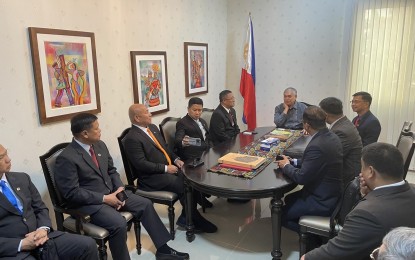 MANILA – Philippine National Police (PNP) chief, Gen. Rodolfo Azurin Jr., is considering the appointment of a permanent police attaché at the Philippine Embassy in the United Arab Emirates (UAE) for better cooperation and coordination in ensuring the safety and well-being of Filipinos in the Gulf state.
This was among the topics discussed in a meeting between Azurin and Philippine Ambassador to UAE Alfonso Ver at the Philippine Embassy in Abu Dhabi on Monday, the PNP Public Information Office said in a news release on Tuesday.
Azurin is in the UAE to represent the Philippines at the 24th Asian Regional Conference of the International Criminal Police Organization (ICPO-Interpol).
Azurin said the plan is part of Manila's pursuit of a comprehensive and integrated program to address conflict and security against global security threats.
The PNP chief said through working with foreign law enforcement agencies, police attaches can help to disrupt illegal gambling, drug trafficking, and cybercrime activities that may affect both countries.
He said this would also ensure that the welfare of Filipino citizens is a priority and that adequate measures are in place to address any security or welfare concerns.
Azurin said it is high time to streamline the government's intelligence-driven strategies in support of its mission, operational works, functions, and commitment to regional and international law enforcement cooperation.
"Our focus is on expanding efforts to address transnational crimes by improving coordination and communication with the international intelligence community. By considering internal security concerns globally, we can better respond to and prevent transnational crimes that may impact the country," Azurin said.
Azurin is scheduled to present updates on the situation of trafficking in persons and human smuggling in the Philippines on Wednesday as part of the Interpol conference.
The conference is expected to beef up the processes in the exchange of information among member countries to further improve the fight against transnational crime. (PNA)