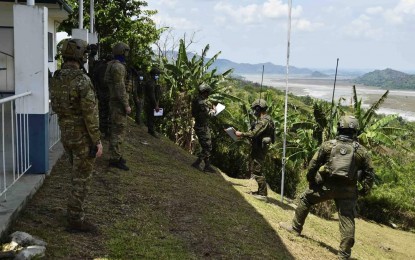 MANILA – The locations of the four additional facilities under the Enhanced Defense Cooperation Agreement (EDCA) between the Philippines and the United States would be made public once necessary works and preparations are completed, the Department of National Defense (DND) bared Tuesday.
"The Philippines and US sides agreed to designate four new 'Agreed Locations' under EDCA (Enhanced Defense Cooperation Agreement) in strategic areas of the country. These sites will be announced in due time, i.e., when all the necessary consultations, coordination, staff work and other requirements are completed or complied with," said DND spokesperson Arsenio Andolong in a message.
He also clarified that a consensus has already been reached on the four new "agreed locations" by the two nations.
"A consensus was reached on the 'Agreed Locations', however, these will be finalized and announced only when appropriate requirements are fulfilled," Andolong said.
Sought for comment on the opposition of Cagayan Governor Manuel Mamba to the establishment of an EDCA site in his province, Andolong said they are urging local officials to look at the positive impact of these facilities.
"We respectfully enjoin our local chief executives to consider the potential foreign investments and economic development that EDCA sites will bring to their communities, as well as the enhancement of the protection of our areas that are vulnerable to the effects of climate change, and the quicker disaster response and mitigation when our front-liners are called to action," Andolong said.
Finalized after eight rounds of talks in August 2013, the EDCA which was signed in 2014 allows US troops access to designated Philippine military facilities, the right to build facilities, and preposition equipment, aircraft, and vessels, but rules out permanent basing.
The Philippine government is working with the US to build the future facilities at the Cesar Basa Air Base in Floridablanca town, Pampanga province; Fort Magsaysay Military Reservation in Nueva Ecija province; Lumbia Airfield in Cagayan de Oro City; Antonio Bautista Air Base in Puerto Princesa City, Palawan; and Benito Ebuen Air Base in Cebu province. (PNA)