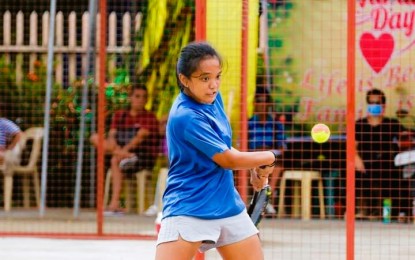 MANILA – Unseeded Tennielle Bedua Madis of North Cotabato province eliminated No. 2 Alexei Xira Santos of Palawan, 6-3, 6-3, to reach the third round of the Rina Cañiza Women's Open Tennis Championships at the Philippine Columbian Association (PCA) outdoor courts in Paco, Manila on Tuesday.
The 15-year-old netter from M'lang town was down 1-3 but came back strong to sweep the next five games to take the first set.
She kept her momentum in the second frame, taking a 4-1 lead before Santos, skipper of the UST team, fought back to close in at 3-4.
But Madis, a silver medalist at the 2019 Palarong Pambansa in Davao City, played steadier to wrap up the match.
"I'm happy with my performance today," said Madis, who is playing in her first Women's Open tournament. She defeated Nina Marie Sandejas, 6-0, 6-2, in the first round.
"I hope to win again in my next match. I will do my best," added Madis, who will meet wild card Maria Hannah Divinagracia, who ousted No. 12 Beatrice Gomez, 6-2, 6-1, on Thursday.
Madis had a successful campaign in Malaysia last December, winning the singles and doubles titles in the 37th RGB Penang Open Age Group Tennis Championships and the Perlis leg of the MILO International Junior Tennis Championships.
Santos, a semifinalist at the 2022 PCA Open, put up a good fight despite the limited preparation.
"I only had two weeks to practice so I wasn't expecting so much," said the 22-year-old Santos from Puerto Princesa City.
Meanwhile, top seed Alexa Joy Milliam earned a third-round seat following a 6-1, 6-2 victory over Debbie Gom-Os. She will be up against No. 8 Sydney Ezra Enriquez, who beat Jayden Reace Ballado, 6-3, 6-1.
Also moving to the next round were No. 3 Justine Hannah Maneja, No. 5 Althea Fay Ong, No. 6 Mikaela Vicencio and No. 8 Joanna Tao Yee Tan.
Maneja downed Anna Laura De Myer, 6-0, 6-2; Ong conquered Aj Acabo, 6-4, 6-1; Vicencio outplayed Chloe Marie Mercado, 7-6 (1), 6-3; and Tan prevailed over Samantha Anne Asistio, 6-0, 6-1.
Unseeded Mary Aubrey Calma stunned No. 7 Kryshana Brazal, 6-1, 6-1, while Melanie Faye Dizon pulled off a 6-0, 6-1 upset win over No. 9 Nina Angeline Alcala to join Nichole Dela Rita, Mariam Yasmin Garsin, Kimi Alyana Brodeth, Rachel Patricia Velez, Joshea Dominique Malazarte and Miles Alexandra Vitaliano in the next round. (PNA)