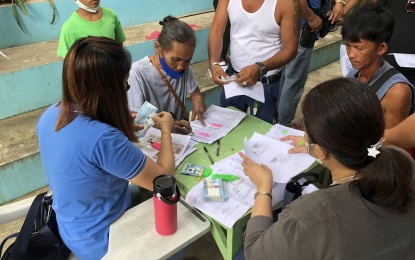 ILOILO CITY – The families displaced by the Jan. 28 fire that razed the villages of West Habog-Habog and San Juan in this city's Molo district can now return to their villages starting next week.
However, they can only build temporary houses while the city government is eyeing to build decent housing for them in partnership with the Department of Human Settlements and Urban Development (DHSUD).
Their return will be supervised by the city government to ensure the provision of access roads and they will only construct temporary houses, said Mayor Jerry Treñas in a phone interview on Tuesday.
Treñas visited the 300 families who are currently staying at the Baluarte Elementary School and at the San Juan Elementary School for the distribution of initial financial assistance, consisting of PHP5,000 each for totally damaged houses and PHP2,000 for partially damaged houses, as well for sharers and renters on Tuesday morning.
"I explained to them the plan of the city government. They only have to construct temporary houses because we are going to build for the fire victims there low-rise buildings so that they will have decent housing units," he said.
The mayor said the fire victims have been receiving aid from the government's assistance to individuals in crisis situation (AICS).
Last week, each of the affected families received PHP10,000 from Senator Christopher Lawrence "Bong" Go and Iloilo lone district Representative Julienne Baronda and another PHP5,000 food assistance from presidential sister Senator Imee Marcos on Saturday.
Treñas said the assistance given will just go to waste if the city government will not assist the fire victims with the process they need to undertake for them to go back to their barangays.
The city government will purchase the land where they used to occupy while the DHSUD would build eight low-rise buildings with 60 housing units each.
The mayor said the owner of the 1.3- hectare private lot that was once occupied by the fire victims is willing to sell the property.
The local government will make use of its PHP200 million loan that will be sourced from the Development Bank of the Philippines intended for land banking. (PNA)