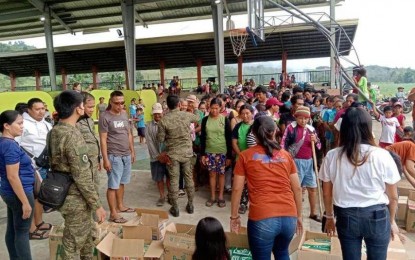 DUMAGUETE CITY – The Philippine Army targets to end the communist insurgency in Negros Oriental as early as the first quarter of this year with sustained operations.
Brig. Gen. Leonardo Peña, commander of the 302nd Infantry Brigade based in Tanjay City, told the Philippine News Agency on Tuesday that continuous combat and non-combat operations in the province and in Negros Occidental will reduce the fighting capabilities of the New People's Army (NPA), the armed wing of the Communist Party of the Philippines.
"Actually, our objective at the brigade is to completely flush out the ranks of the NPA or reduce it to the lowest, insignificant level, or in a state where they can no longer fight the government forces," Peña said in mixed English and Filipino.
"That is why we have intensified our combat operations to track these NPA rebels down and ensure that they can no longer regain their strongholds and build up their mass base," he added.
Peña said the recent encounters between the NPA and government forces on Negros Island are the result of the civilian populace's cooperation with their anti-insurgency efforts.
The clashes in Barangay Oringao, Kabankalan City, Negros Occidental, which is near the boundary of Negros Oriental, over the weekend forced 800 individuals to leave their homes and seek safety.
Peña said Executive Order (EO) No. 70 of former president Rodrigo Duterte is now seeing gains in this Central Visayas province, the only one among four provinces in Region 7 (Central Visayas) that is still dealing with insurgency.
EO No. 70, signed in December 2018, created the National Task Force to End Local Communist Armed Conflict that employs a whole-of-nation approach to end communism and institute peace-building initiatives.
"We intend to make Negros Oriental insurgency-free, just like Bohol, and we need the cooperation of government agencies, local government units, local chief executives, and various stakeholders for us to achieve this goal," he added. (PNA)