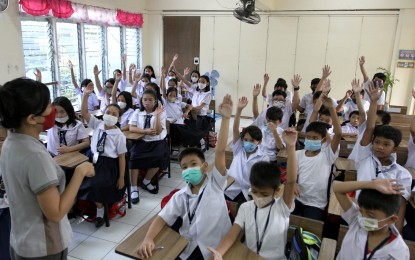 MANILA – A measure introducing a "ladderized approach" in the Kinder to Grade 12 (K to 12) curriculum has hurdled the committee level at the House of Representatives.
During a hearing on Tuesday, the House Committee on Basic Education and Culture, chaired by Pasig City Rep. Roman Romulo, approved House Bill 238, which seeks to improve the K to 12 education of students and the proficiency of teachers by amending Sections 5 and 7 of Republic Act (RA) 10533 or The Education Act of 2013.
Caloocan City Rep. Mary Mitzi Cajayon-Uy, author of the bill, noted the Philippines' dismal performance in reading, math, and science in the 2018 Program for International Student Assessment (PISA).
Cajayon-Uy said the problem lies not only in the students' ability but also in the aspect of teaching, which is vital in learning.
"Thus, to address this extremely disappointing outcome, this bill aims to restructure and reconsider the present education system with the focus aligned on enhancing learning," she said.
Cajayon-Uy noted that the curriculum would use the ladderized approach to ensure mastery of knowledge and skills after each level instead of using the spiral progression approach being implemented under RA 10533.
OFW Party-list Rep. Marissa Magsino described the spiral progression as an educational technique that focuses initially on instruction on basic facts with further details introduced as learning progresses.
Magsino said the ladderized approach harmonizes all education and training mechanisms, which allow students to progress between technical-vocational and higher education programs or vice versa as defined in RA 10647 or the Ladderized Education Act of 2014.
She suggested that the spiral progressive approach be retained in Grades 1 to 6, and the ladderized approach be implemented in Grades 7 to 12.
The bill also proposes the creation of a Teacher Education and Training Committee (TETC) to further improve the hiring and training process of teachers.
The TETC shall be solely responsible for setting minimum criteria in expertise instruction, and other relevant matters for hiring new teachers, and evaluating new and current teachers.
During the same hearing, the panel approved House Bill 236, which seeks to strengthen Section 4 of RA 11476, or the Good Manners and Right Conduct (GMRC) and Value Education Act.
Section 4 is a provision on the institutionalization of GMRC and Values Education in the K to 12 Basic Education Curriculum.
The proposed amendment shall require all public and private schools to conduct values formation activities quarterly.
During the Basic Education Report (BER) 2023 in January, Vice President and Department of Education (DepEd) Secretary Sara Duterte vowed to revise the K to 12 curriculum "to make them more responsive to our aspiration as a nation, to develop lifelong learners who are imbued with 21st-century skills, discipline, and patriotism."
She said consulting experts, adapting to local and international best practices and formulating decisions based on evidence to equip children with appropriate skills, instead of mere familiarity.
Duterte also called on the industries to help the sector in breaking down school-to-employment gaps or mismatches.
"To make our graduates employable, we appeal to the industry, and to employers, to accept our students in work immersions, and hire them when they graduate," she said.
The DepEd will also work closely with the Commission on Higher Education and the Technical Education and Skills Training Authority to address job mismatch. (PNA)