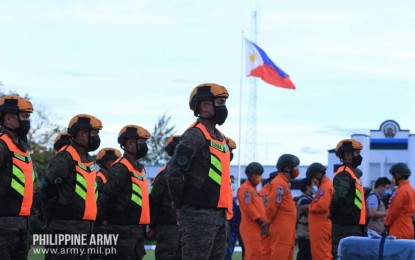 MANILA – The Military Ordinariate of the Philippines (MOP) and the Office of the Chaplain Service have blessed the humanitarian team and the equipment that will be sent to aid the rescue efforts in earthquake-hit Türkiye.
Church-run Radio Veritas reported on Wednesday that 2nd Lt. Fr. Mario Aliwan of the MOP led the blessing of the personnel from the Armed Forces of the Philippines (AFP) in Camp Aguinaldo, Quezon City, who would join the humanitarian mission.
The equipment that will be used in the search and rescue operation will also be checked if it is in proper condition.
The Philippines is set to deploy an 85-man team composed of military troops and personnel from the Office of Civil Defense, Metro Manila Development Authority, Subic Bay Metropolitan Authority and the Department of Health, which is set to leave for Türkiye on Wednesday night.
Türkiye's Anadolu News Agency reported on Wednesday that the death toll from Monday's devastating earthquake in the country's southern part has reached 5,894.
As many as 5,775 buildings collapsed while more than 8,000 people have been rescued from the rubble.
The earthquake also affected parts of Syria near Türkiye's southern border. (PNA)