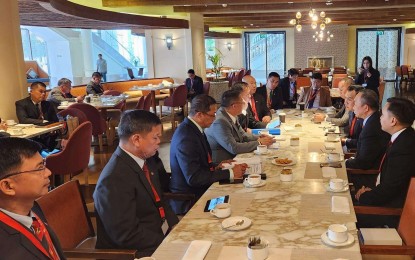 MANILA – The Philippine National Police (PNP) and the Indonesian National Police (INP) have reaffirmed their partnership in combatting transnational crime and terrorism in the region.
PNP chief, Gen. Rodolfo Azurin Jr., and Brig. Gen. Amur Chandra Juli Buana, Secretary of the International Criminal Police Organization (Interpol)-Indonesia National Central Bureau, made this commitment during a bilateral meeting in Abu Dhabi, United Arab Emirates (UAE) on Tuesday.
The meeting was held on the sidelines of the Interpol's 24th Asian Regional Conference in Abu Dhabi.
Both police forces have formulated standard procedures in joint police operations, joint training on cooperation, a procedure in the conduct of hot pursuit operations along territorial waters, and guidelines for the handover of criminal suspects.
The PNP and INP forged a memorandum of understanding last Dec. 12, 2022 that will continue the conduct of maritime joint exercises, capacity-building training/courses, and security assistance to boost the anti-crime campaign of the two countries.
The joint initiative of the two police forces seeks to prevent and control transnational crime activities including, but not limited to: drug trafficking, terrorism, arms smuggling, human trafficking, maritime piracy, cyber crimes, commercial crimes, credit card fraud, fraudulent travel documents, and other forms of commercial and financial fraud.
"This international understanding manifests the commitment of both the Philippines and Indonesian police forces to enhance the level of partnership and cooperation between our two countries in fighting transnational crime and terrorism," Azurin said in a statement on Thursday.
Azurin also underscored the importance of strengthening cooperation on regional security issues as the Philippines shares a wide border with Indonesia.
The Interpol regional conference includes discussions on operational cooperation, enhancing policing capabilities, and priority crime areas with a focus on trafficking in drugs and countering terrorism along with an assessment of the state of police cooperation and international efforts against cross-border crimes. (PNA)