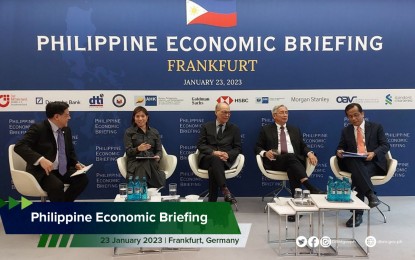 MANILA – The economic team of President Ferdinand R. Marcos Jr. is scheduled to meet with the Japanese business community on Friday to tout the Philippines' robust economy and lure more investments.
The holding of the fourth Philippine Economic Briefing (PEB) coincides with Marcos' official visit to Tokyo from Feb. 8 to 12.
"President Marcos' trip seeks to further strengthen the strategic partnership between the Philippines and Japan, including economic and defense cooperation," the Department of Budget and Management (DBM) said in a statement on Thursday.
"The PEB, scheduled on February 10, will have the country's economic managers discussing investment opportunities in the Philippines," it added.
The economic managers joining Marcos on the Japan trip were Finance Secretary Benjamin Diokno, Budget Secretary Amenah Pangandaman, Bangko Sentral ng Pilipinas governor Felipe Medalla, and National Economic and Development Authority director general and Socioeconomic Planning Secretary Arsenio Balisacan.
During the first part of the PEB, Diokno would present the country's economic performance and outlook, while Pangandaman would discuss the important features of the 2023 national budget, as well as the Marcos administration's budget reform initiatives and priority legislative agenda, the DBM said.
The DBM said there would also be a panel discussion with the Philippine economic managers.
The second part of the forum would cover the infrastructure and industry sectors, it added.
The Budget department said Secretaries Alfredo Pascual (Trade), Manuel Bonoan (Public Works), Christina Frasco (Tourism), and Jaime Bautista (Transportation) would serve as panelists.
"President Marcos Jr. will deliver the keynote address," the DBM said. "To precede the forum are roundtable meetings with corporate leaders, signing of letters of intent or agreements, a luncheon and networking event, and a meeting with business forum organizers."
Marcos is expected to speak before "hundreds of top Japanese business leaders during the Philippine Business Opportunity seminar.
The President's official visit to Japan is seen to generate around PHP150 billion in investment pledges that could open job opportunities to around 8,000 Filipinos, the Philippine Embassy in Tokyo said.
The Marcos administration's economic team has so far conducted three PEBs. The recent one was in Europe (Frankfurt in Germany and London in the United Kingdom) in January 2023 and the two previous briefings were in Singapore and the United States both held in September 2022.
Pangandaman earlier said previous PEBs have generated a positive response from international business leaders and investors.
Marcos economic team is set to hold a series of briefings to market the Philippines in the business community in the Middle East, Asia and Europe in the first half of 2023. (PNA)