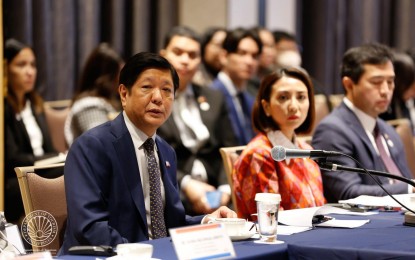 MANILA – President Ferdinand R. Marcos Jr. on Thursday expressed interest to expand educational tourism between the Philippines and Japan, citing how Filipinos are known globally for their high English proficiency.
During a roundtable meeting with tourism stakeholders in Tokyo, Japan, Marcos said the country's educational tourism would have a special focus on the exchange of students and professionals in tourism-related institutions.
He also invited Japanese students to study English in the Philippines.
"Filipinos are known to be the citizens of the world. Filipinos have a fluency in English that is recognized to be one of our main leverages, one of our main selling points in terms of the educational tourism. It makes it easy for us to work and communicate in other countries. And where else can you better learn English than in the Philippines," he said.
Likewise, Marcos assured that his administration is also prioritizing the development of key tourist destinations in the country.
He said the government is aggressively improving road networks and internet connectivity in tourist destinations.
"Through this, we will make sure that hard and soft infrastructure is well-developed, from roads and bridges to medical facilities, clean water supplies, and readily accessible for tourists and locals alike," he said.
Citing government data, he said tourism's contribution to the 2019 gross domestic product (GDP) was PHP2.48 trillion, or at least 12.8 percent of the total economy.
"We are banking on this potential to reshape the industry to be one of the key economic drivers of the country. We are well on our way to recovery, this I assure you, with more than 2.65 million foreign visitors we have welcomed last year, that's exceeding the initial target of 1.7 million," he added.
He said the Philippines and Japan are deeply rooted in "unique appreciation and preservation of our culture, our traditions, and our heritage."
"Now, this is something we admire and can share with our Japanese friends, whose success in the tourism sector is profoundly etched in one's cultural identity that has adapted and strengthened over time," he said.
He, likewise, said the country is "open and ready to welcome more Japanese onto our shores."
"And as a country that recognizes the linkages of our success to that of our neighbors such as Japan, working together in boosting our tourism sector is vital to economic resurgence," he added.
Lifting of travel advisories
Marcos said his administration was also pushing for the "lifting or limiting" of Japan's travel advisories against Philippine key travel destinations to revive the pandemic-hit tourism industry.
The DOT did not elaborate on which "key" travel destinations these were.
Data from the Ministry of Foreign Affairs of Japan website showed that as of May 17, 2022, Japan has placed west of central Mindanao region under a level 3 danger level which means "do not travel."
The ministry also placed some provinces in the Mindanao region (Camiguin Province; Dinagat Islands; Cagayan de Oro City; Misamis Oriental Province; Hasan Town, Villanueva Town and Tagoloan Town, Davao City and Digos City, Davao South Province;, Davao North; Tagum and Samal, Davao East'; Mati, Davao East; General Santos, Cotabato South, Butuan, Agusan North, Siargao, Surigao North) and all areas other than the above, including Metro Manila under level 2 danger level which means "please refrain from non-essential travel."
It cited how the area in Mindanao where level 3 was raised "continues to face an unstable security situation, with terrorist bomb attacks by Islamic extremist groups and kidnappings for ransom occurring frequently."
"The Philippines and Japan have so much in the pipeline on what we can share and learn with each other. But first and foremost, we note that in order for us to further deepen our nation's mutual friendship and interest, we must first be open to each other's people," Marcos said.
"With this, we are working on lobbying to the Japanese government for the lifting or limiting of its travel advisory against the Philippines' key travel destinations," he added.
As of Jan. 30, Japan ranks sixth among the country's foreign visitors.
In his first State of the Nation Address, Marcos identified tourism as one of the top priorities of this administration. (PNA)