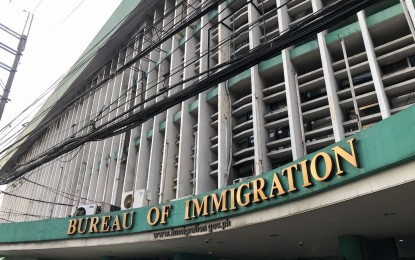 MANILA – The Bureau of Immigration (BI) is ready to sit down with the Department of Justice (DOJ) to discuss measures on how to expedite cases faced by erring foreigners before the country's courts.
Immigration Commissioner Norman Tansingco said Thursday that these concrete actions to be taken will help them decongest their holding facility inside Camp Bagong Diwa in Taguig City.
The BI reported that the facility has a capacity of 140 wards, but is currently housing more than 300 deportees.
This came after the deportation of four Japanese nationals tagged in the controversial "Luffy" case in Japan.
Among them is "Luffy" who allegedly ran a gang responsible for a series of violent robberies in Japan while in detention at the BI facility through the use of mobile phones.
Tomonobu Saito, 45, and Yuki Watanabe, 38, have both been deported Wednesday on board a Japan Airlines flight to Tokyo.
"Yesterday (Wednesday), we received confirmation that the local cases of the two remaining suspects have been dismissed by the courts. This means there is no more legal impediment for us to implement their deportation. We thank the Department of Justice (DOJ) for their continued assistance in expediting the resolution of the local cases of these deportees, so we can finally send them back for them to face their crimes," the BI chief said in a statement.
Tomonobu, with a known alias of Kojima Tomonobu, and Yuki, with known aliases Kenjie Watanabe and Kenjie Shimada, were both arrested on April 19, 2021 in a hotel in Parañaque City by the BI's intelligence Division, together with the National Bureau of Investigation.
Tomonobu is considered a wanted fugitive in Japan, with a standing arrest warrant for theft, while Yuki reportedly has an arrest warrant for use of counterfeit official marks and theft.
On Tuesday, two more Japanese fugitives, Fujita Toshiya and Imamura Kiyoto, both 38 years old, have been sent back to Tokyo on board a Japan Airlines flight.
All four were deported for being undesirable aliens due to their status as wanted fugitives.
"Luffy has finally been deported. We wish to also thank the Japanese government for their cooperation in our efforts to expedite their return," Tansingco said.
As a consequence of deportation, the Japanese nationals have been included in the BI's blacklist, effectively barring their return to the Philippines. (PNA)