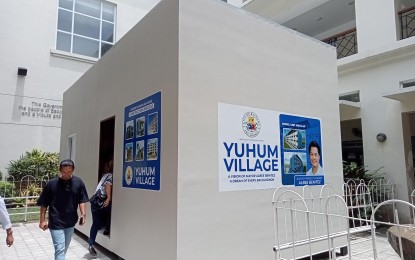 BACOLOD CITY – The city government here has formed Task Force Pabahay to orient informal settler families (ISFs) wanting to avail of the priority housing program of the Marcos administration.
A report on Thursday showed those already oriented by community organizers headed by program coordinator Engr. Joel Vergara were families from Barangays 7, 41, Banago, Sum-ag, Bata and Villamonte.
Mayor Alfredo Abelardo Benitez said some 16,000 potential beneficiaries have been or are being interviewed to qualify for the housing program.
"Right now, we are targeting to build within three years a minimum of 10,000 units," Benitez added.
Task Force Pabahay, along with personnel of the Pag-IBIG Fund, also initiates the interviews to screen qualified beneficiaries, particularly those living in the coastal barangays and danger zones.
Through the Yuhum Village housing projects, the city government aims to build some five-story structures of concrete modular houses at the relocation in Barangay Vista Alegre and the coastal areas in Barangay Banago and Barangay 8.
Bacolod is the first local government unit in the country to sign a memorandum of agreement (MOA) with the Pag-IBIG Fund to develop housing units for ISFs under the "Pambansang Pabahay Para Sa Pilipino: Zero Informal Settler Family Program for 2028", which seeks to build a total of six million housing units to address the country's housing backlog in six years or until 2028.
Benitez signed the deal with Secretary Jose Rizalino Acuzar of the Department of Human Settlements and Urban Development (DHSUD) and Pag-IBIG Fund chief executive officer Marilene Acosta in rites held at the agency's central office in Quezon City last November.
The mayor said the "Pambansang Pabahay Para Sa Pilipino" has three components, which are interventions being done by the government to bring down the cost of housing for ISFs to a "very, very affordable level."
"First, the land is owned by the government. They (beneficiaries) will not be charged for it, they can utilize the land on a usufruct basis. Second, there's a subsidized interest rate which, based on the Pag-IBIG policy, all socialized units will be charged only 3 percent interest. Third, there will be a subsidy for units under the program," Benitez said.
As then congressman of the third district of Negros Occidental, Benitez authored Republic Act 11201, the law which created the DHSUD in 2019.
Acuzar, who sits as the chairman of the Pag-IBIG Fund, congratulated Acosta and Benitez for the partnership that seeks to fulfill the dream of ISFs in Bacolod to own a house through membership with the shelter financing agency.
Before the MOA was signed, Acuzar and Benitez first inked a memorandum of understanding in September to signal the start of the initiative to develop the 10,000 housing units to be established as the Yuhum Village. (PNA)