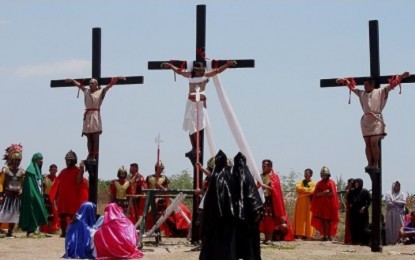 CITY OF SAN FERNANDO, Pampanga – "Maleldo", the renowned Lenten tradition in this city highlighted by the reenactment of the crucifixion of Jesus Christ, will be back after a three-year hiatus due to the Covid-19 pandemic.
Members of the Maleldo 2023 executive committee headed by barangay president and ex-officio City Councilor Wilzen Samia have met and discussed preparations for the resumption of the old tradition that was canceled in 2020 as a precautionary measure against the coronavirus.
In a television interview on Thursday, Samia said among the topics discussed during their series of meetings since last week were the crucifixion rites to be held anew in separate stages likened to the biblical "Golgotha" in Barangays San Pedro Cutud, Sta. Lucia and San Juan and the "Tira Bakal", which is similar to the usual "senakulo", in Barangays Sta. Teresita, San Jose and Juliana.
Last Feb. 7, the committee members conducted an inspection of the crucifixion sites.
Samia said the Maleldo committee will soon release the official calendar of activities for the staging of the traditional passion plays.
"Maleldo" is the Kapampangan word for Holy Week. The Lenten event is highlighted by several penitents being literally nailed to wooden crosses.
Prior to the actual nailing rites, penitents called "magdarame" (flagellants) parade on the streets carrying wooden crosses and whipping their backs with bamboo sticks called "burilyos."
At the end of their agonizing walk, some of the penitents would go to the man-made Calvary for the actual crucifixion.
Many of the penitents undergo the annual ritual to atone for their sins, pray for the sick or for a better life, and give thanks for what they believe were God-given miracles.
Some of them do it for their families while others perform it as a commitment every Holy Week.
While the modern Catholic Church does not approve nor allow these acts, the penitents are unperturbed and their way of sacrifice draws thousands of local and foreign pilgrims and spectators to the province to witness the traditional event. (PNA)