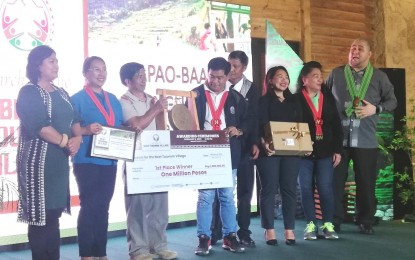 BAGUIO CITY – The Department of Tourism in the Cordillera Administrative Region (DOT-CAR) has recognized new and emerging village destinations in the region with rich cultural values in line with the department's direction toward "Filipinism."
Named by the DOT-CAR as the Best Cordillera Tourism Village was the clustered "tourism village" of Nungulunan, Hapao and Baang in Hungduan town, Ifugao province.
"Tourists will get to experience an old-time tradition of celebration after harvest which is called the 'punnok.' They will also get the chance to be part of a 'cañao,' the practice of woodcarving and 'panpanday' or blacksmith," said Nungulunan barangay chairperson Rodolgo Dong-e on what awaits tourists who would visit their village.
He said they also have activities that will immerse the tourists in the cultural practices that their people are still doing.
Aside from preserving and spreading their culture, Dong-e noted how their local economy also gets a boost from tourism activities.
With the recognition, the tourism village received a plaque, token, and a PHP1 million prize.
Coming in second place was the Pidilisan Village in Sagada, Mt. Province, which received PHP500,000. In third spot was the Naneng Heritage Village in Bauko town, Mountain Province, which received a PHP200,000 prize. The villages that landed on the fourth to the eight spot each got PHP100,000. Twenty-eight villages were entered in the contest for consideration, and 12 were shortlisted.
"Maria Esperanza Christina Garcia Frasco's (DOT Secretary) idea and strategy is to put tourism in the limelight with the launching of the Philippine experience to promote destinations anchored on culture," said Jovita Ganongan, regional director of the DOT-CAR, during the awarding ceremonies on Wednesday.
"Among Secretary Frasco's thrusts is developing tourism from the ground, enabling communities to embrace tourism, creating tourism experiences that carry Filipino brand and identity," she added.
She emphasized the importance of promoting "Filipinism" in highlighting "who we are as people and as Filipinos."
"We need to involve more stakeholders to ramp up our effort of developing Cordillera as a tourism destination north of Metro Manila," Ganongan said.
She said tourism breathes life into the villages and communities, and should be sustainable to ensure that their heritage will not be exploited.
"When communities take pride in the endeavor, there becomes a sense of ownership that we permit a sense of pride and empowerment. This will pave the way for tourism to become a major economic driver, uplifting the lives of each member of the community while ensuring that our culture and traditions are continuously celebrated evolving thru the times but grounded on the community values that have allowed us to be united and proud," Ganongan said.
Ganongan, during the media appreciation night after the awarding ceremony, highlighted the role of the media in the promotion of the different tourist destinations aside from the village tourism sites that helps in the achievement of the administration's vision in making the Philippines the powerhouse.
"We would like to thank you for producing stories that amplify the effort of the DOT-CAR to position the region as a tourism destination outside Metro Manila. Your stories allow the regions' destinations to widen reach especially since our job requires intensive promotion and marketing which the DOT does not have." (PNA)